10 THINGS YOU NEED TO LEAVE BEHIND
New Year's resolutions aren't all they are cracked up to be, are they? Most agree that starting off a new year with expectations, and things you'll be "resolute" about, is as smart as not being fully stocked with TP during a pandemic.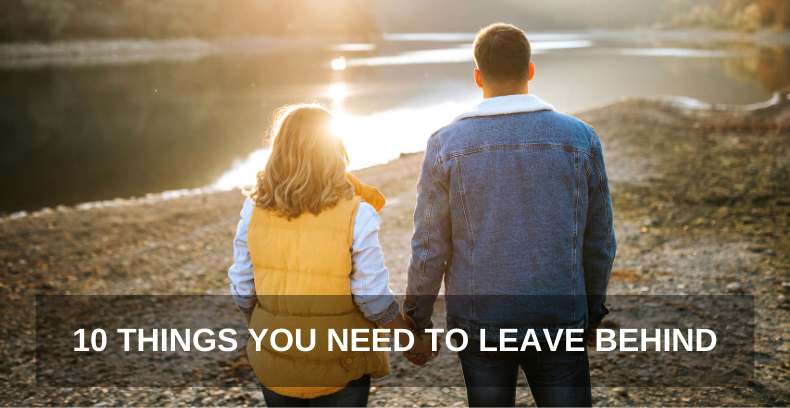 But year after year, you make them. All those big promises. Eat better. Keep the house clean. Workout more. Try something new. But do you actually do these things? Probably not.
While intentions are good, most of us make them in the spirit of the season rather than to make genuine change. That's why this year, instead of making a resolution to do something, let's make an action plan to rid ourselves of what's holding us back.
Here are 10 things to leave behind with the rest of the weird, crazy stuff that has happened this past year.
Clutter
Many of you found your lives were cluttered with "stuff." Clutter can be physical and it can be mental. If you've got junk just taking up space in your bedroom, house, and your head, it's time to ditch it.
From clothes you've not worn in a year to all that stuff you started and never finished. Make your peace with it and get rid of it.
Going Too Many Days Without Prayer 
Prayer literally centers you. It gives you the direction and strength you need to transform your life. If you're not praying and releasing yourself to the power of prayer, then you really are not opening yourself up to change.
Don't forget… "Whatever you ask in prayer, you will receive, if you have faith" (Matthew 21:22).
Pray together. Make time to pray on your own. This year find time to pray as a family. You don't truly know its power until you release yourself into it.
The Past
This last year may have been a tough one for you. Not like Sudoku tough or the final round of Jeopardy tough. But rock you to your core tough.
You saw so much loss. So much hurt and so much anger. You might have been scared. You might have felt confused or in disbelief. Pair this with the burdens of your past and you may feel as if the weight of the world is upon you.
You need to let it go. All of it.
What happened six months ago, six years ago, or when you were 26, whatever it is, use the new year as your reset button. You don't need any of it.
Negative Thoughts
This year, you learned a lot about the power of negative thinking. It was basically something unavoidable. Pushed in your face and flashed in front of you every single second of the day.
It's a wonder you're not walking around like the Grinch 2.0.
Decide now you will not let negative thoughts control your mind. It's time to kick them to the curb.
Overspending
When you feel trapped or sad, overspending is easy.
However, spending $4.95 on a cup of coffee was only a temporary feel-wonderful moment for you. Recognize your genuine needs and leave behind that "I'll just put it on the credit card" vibe.
You'll feel much better with a completely paid off credit card than the one that's completely maxed out.
Unintentional Living
It's so easy to get into a rut. In fact, you might not even realize you're in one until you're fully planted.
You can't turn back time, so that means you need to live now.
This also means saying no to the things that aren't important. You need to prioritize what you really want if you want to make room for it.
Laziness as a Lifestyle
This is really a part of intentional living, and yet since it's so common, it deserves a spot on this list.
Don't sleep or procrastinate your life away.
Just get up and do it. You won't see results unless you do the work. Take a day off once in a while, but don't let laziness consume your life.
Self-care Myths
It's time to leave the big misconceptions around "self-care" in the past. It's honestly crazy that many still don't understand what self-care really means.
Self-care means taking care of yourself from the inside out. From your mental health to getting adequate amounts of sleep.
Self-care is not a shopping spree. It's also not going out drinking, thinking it's going to manage your stress. You need intentional actions instead of small moments of temporary satisfaction. Adopt the real thing and leave everything else in the past.
Negative Opinions of Yourself and Others
Confidence comes from within you. It also is fed through what you say about yourself and others. Negativity is real and even if you are saying negative things about others, it's still affecting you.
Take to heart the saying, "if you have nothing nice to say, then don't say it at all." Opinions are just that: Opinion. They are things you say that you think you believe.
You'll grow more as a person if you look for the positives and look at negativity as if it's a new pandemic.
Missed Opportunities
None of us are promised tomorrow. You may have learned that this year. Our lives changed from one thing to another in the blink of an eye.
Don't wait until the next crisis to let those you love know how important they are to you.
If you see an opportunity, take it. Learn something new. Make that connection. Try something new. Have the conversation.
No matter what you do, don't let opportunities go by you without recognizing them and embracing them as chances to make that part of your life amazing.
Disclosure of Material Connection: Some of the links in the post above are "affiliate links." This means if you click on the link and purchase the item, we will receive an affiliate commission. Regardless, we only recommend products or services we use personally and believe will add value to our readers. We are disclosing this in accordance with the Federal Trade Commission's 16 CFR, Part 255: "Guides Concerning the Use of Endorsements and Testimonials in Advertising."