10 WAYS BICKERING NEGATIVELY IMPACT YOUR LIFE
You and your spouse come home from a long day at work.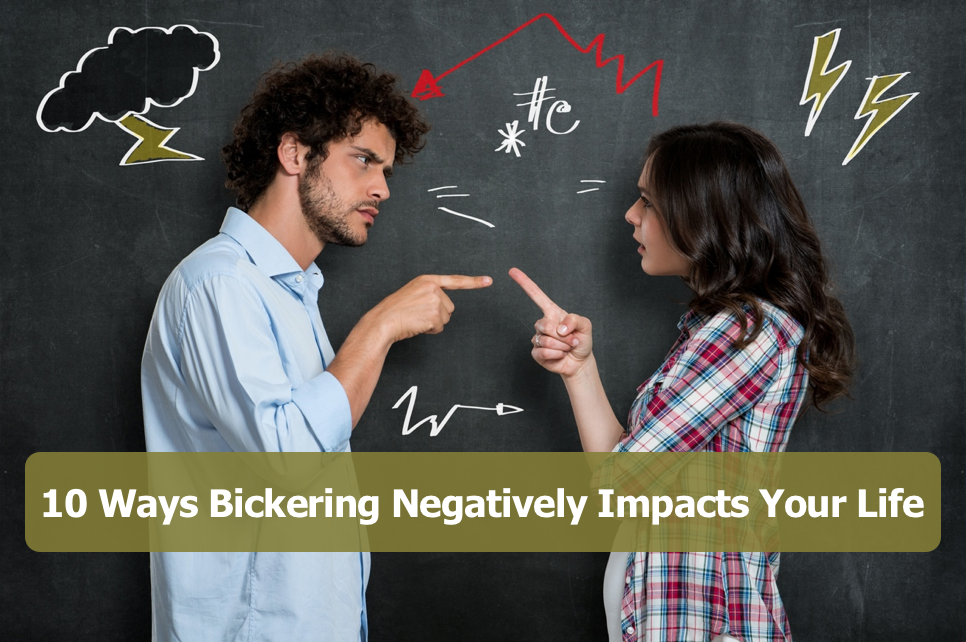 Dinner isn't ready again…
You make the comment that you'll be scrambling to get something on the dinner table.
Your spouse takes that as a shot and the back and forth begins.
You take more jabs at each other until one of you finally starts cooking and the other leaves the room.
Sound familiar?
Bickering can seem harmless on the surface. It's just a way to blow off some steam after work, right?
The Negative Impact Of Bickering
Bickering can negatively impact your life in more ways than you think.
A number of studies show that constant arguing can have a serious impact on your health.
Do you bicker with your spouse, friends and others?
If you do keep reading because bickering…
#1 Impacts Your Health
Constant bickering is not healthy.
Arguing causes your body to break down. When you argue or fight…
Your blood pressure rises
You have a higher risk of heart disease
Decreases your body's supply of disease-fighting immune cell
Studies show that loving and harmonious relationships are associated with faster recovery from injury and illness, as well as longer life expectancy, and a lower risk of depression.
#2 Increases Stress
Bickering increases stress and restricts your happiness.
Constant arguing is even more detrimental, with studies showing that constant arguing increases stress levels.
Stress can lead to…
Bad moods
Poor relationships
Memory problems
Moodiness
Aches and pains
Isolating yourself from others.
#3 Affects Your Work Life
If you argue at home, your attitude will be different at work. There's a good chance that you will be on edge, frustrated, and ready to lash out.
It also leads to you being stressed out which goes back to the symptoms above.
Arguing can also destroy confidence, which could affect your work performance.
#4 Affects Your Social Life
Let's be honest, if you are bickering at home –you probably aren't going to be cheery all day long.
We've been there oueselves.
While there is nothing wrong with venting to a close friend or family member, when you start to notice that all conversations with friends center around your latest argument, or you find yourself picking fights with your spouse for no apparent reason, you're in trouble.
Do not ever talk bad about your spouse to someone of the opposite sex. This opens you up to a possible emotional affair.
#5 Affects Your Kids
If you have kids, then it's worth noting that constant arguing isn't good for them either. While the occasional disagreement probably won't make too much of a difference, constantly arguing back and forth may be more of a concern.
Studies show that children who are exposed to parents who argue often share a pattern of brain reactivity that's similar to that of soldiers in combat.
You may see an increase in negative symptoms such as:
Depression
Anxiety
Aggression
Hostility
 #6 Is Emotionally Draining
Arguing is hard work.
It's tough trying to prove yourself right all the time!
At the end of a day, the last thing you should want to do is argue with someone, with your spouse and yet many people do.
After months, or even years of constantly bickering, the emotional toll can be heavy.
#7 Increases Insecurities
Constant bickering destroys trust, and can lead to tremendous insecurities in both of you. Insecurities can cause you to close up, or lash out –and prevent yourself from properly communicating.
A marriage that's founded on trust and communication will make it easier for both of you to express yourselves honestly, making it easier to solve small issues before they grow into bigger problems.
#8 Indicates a Lack of Respect
Bickering shows a lack of respect, and communicates to your loved one that you don't respect them, or their opinions.
This can be:
Judgement
Criticism
Contempt
Superiority
Not exactly a message that's conducive to relationship building!
A lack of respect can lead to other serious problems and increased insecurities.
#9 Resolves Nothing
Bickering takes a lot of time. And in the end, it ultimately solves nothing.
While it's easy to get caught up in the heat of the moment and to focus solely on 'being right,' this is never the right course of action.
Blaming the other person provides a temporary feeling of satisfaction, but it doesn't fix anything.
Until you puts aside blame and finger pointing, there won't be any resolution.
#10 Increases Risk of Middle-Aged Death
According to a recent study, frequent arguing has been linked with increased risk of middle-aged death.
In the study led by Dr. Rikke Lund of the University of Copenhagen in Denmark, constant conflict with anyone in the subjects' social circle was associated with a doubling to tripling in the risk of death from all causes, compared with those who said frequent conflict in their social circles was scarce.
This is a sobering reminder on the devastating effects that continual arguing can have.
Do You Pass The Blame?
All too often, when you are quick to pass blame and criticize, you break down the emotional, physical and spiritual trust with your spouse which is never conducive to building a relationship.
It may be tempting to give into bickering in the short-term, but over time this can lead to disastrous consequences.
A Losing Battle
Bickering is a destructive habit that never leads to constructive resolution or results.
Constant bickering could cause you and your spouse to reach a point of hopelessness, where neither of you see an end in sight.
Instead of reaching this point, it's important to recognize the negative impact that bickering can have on you and your family, and to take steps towards finding a solution.
The Solution
So you now know that bickering creates a wedge between you and your spouse and that it can lead to an early death.
You want to stop, but how do you flip the switch and stop bickering for good?
We've got a plan that will take you step-by-step through the process to eliminate bickering from your life. This goes deeper than you and your spouse. It gets to the root of who you are and how you approach life.
We've seen this strategy work for ourselves and for many other couples and individuals. Don't go through your life living in a constant bad mood always the downer at every social gathering.
This strategy can change your life…
It's now time for you to Stop Bickering With One Simple Strategy
This is the exact same technique we use with our clients (and ourselves) to stop bickering FAST. Use it… It works!
Disclosure of Material Connection: Some of the links in the post above are "affiliate links." This means if you click on the link and purchase the item, we will receive an affiliate commission. Regardless, we only recommend products or services we use personally and believe will add value to our readers. We are disclosing this in accordance with the Federal Trade Commission's 16 CFR, Part 255: "Guides Concerning the Use of Endorsements and Testimonials in Advertising."