Did you know that every year over 50 million roses are given for Valentines Day?
If you want your spouse's gift to feel as unique as THEY are… you may want to consider something other than candy and flowers.
Feeling stumped?
Don't worry, we've rounded up 14 FUN ways to say "I Love You" this year:
Love Never Fails Decorative Box
This fully enclosed wood box sign from Collins displays the biblical phrase "Love bears all things, believes all things, hopes all things, endures all things, love never fails." —1 Corinthians 13:7
The Man Can
Give your man the gift of cleanliness and manliness with The Man Can bath and body gift set. This best-selling set includes a bar soap, shave gel, bay rum oil, hand butter, and scratchy body mitt all cleverly packaged in a paint can.
Relationality: The Amazingly Real-to-Life Game About Relationships
Relationality is a highly interactive, research-based game which generates lively conversation and can actually help improve your current relationships.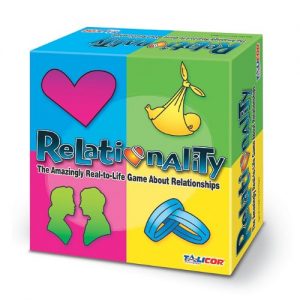 Rehab After Dark
This card game is a fun, non-intimidating way for you to talk about those intimate topic that were talked about when you were first falling in love.
The Romantic Coupon Book
A fun, romantic coupon book for your spouse. Whether you are newlyweds or have been married for 50 years, this humorous coupon book will give your lover discounts and freebies that will keep you occupied for months!
What I Love About You
This fill-in-the-blank book prompts you to say what is in your heart, but may not always be at the tip of your tongue.
Starbucks Hot Cocoa Mug and Double Chocolate Packet of Cocoa
Show your loved one how much you love and care for them with this great combination of chocolate from Starbucks.
7 Days of Sex Challenge: Rock Your Sex Life & Your Marriage
Learn how easy it is for you and your spouse to find some fun time together because it ELIMINATES the stress of figuring out what you need to do for 7 days that will be new and creative to try.
The Original Pink Box
Husband's empower your wife with her own toolkit! Give her the tools she needs to accomplish any task that she has on her to-do list.
Earth Therapeutics Basic Essentials Foot Therapy
A gift that keeps on giving for the runner spouse of yours. This will rejuvenate their feet after a long training run or after an event.
You Are My Love Pocket Token
This token/challenge coin will go everywhere that your spouse goes as a reminder of your love and commitment.
Romantic Gift Set with Floating Silk Rose Petals & Tealight Candles
Set the mood for a fun night soaking in the tub before you get down to some fun under the sheets.
"From My Heart to Yours" Couple Coffee Mugs
Show your loved one your sweet and endearing side! With these "his and hers" coffee mugs, you can remember each other with every sip!
"Why I Love You So" Picture Frame
Your spouse will love reading just how much they mean to you with this romantic love poem for Valentine's Day and every day after.
Make this Valentine's Day one that will be remembered for the rest of the year.
* And if you want spouse of the year award, consider attaching a handwritten romantic letter. See our posts on how to write a wow-worthy letter to your spouse.
Whatever gift you choose — make sure that you two spend TIME together.
If there is one thing that is more important than anything else in your marriage it is to spend quality, uninterrupted moments with your spouse.