16 REASONS WHY I STILL LOVE MY WIFE AFTER 16 YEARS OF MARRIAGE
That's right! After 16 years of marriage I am still madly in love with my beautiful wife Alisa.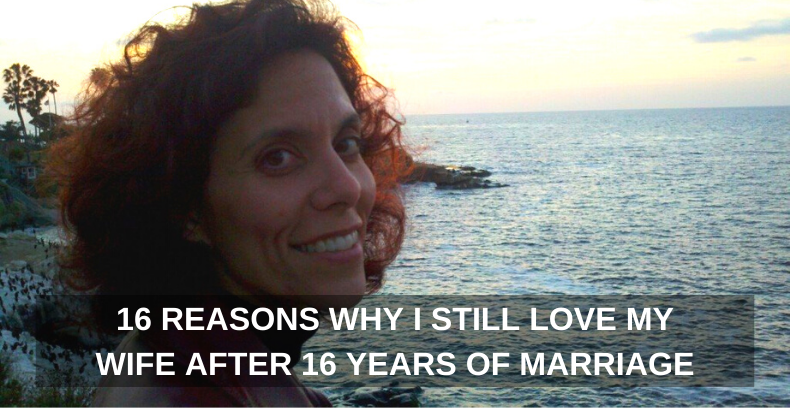 She's not perfect and yet she is all mine. She has given me her heart, her soul, and her love even when I wasn't worthy of them.
Her support on my crazy ideas (athletic, business, and family) is amazing, she has been a fantastic mom to our two kids, calls me out when I've pushed the limits, and most of all loves our Lord and has brought me closer to Him.
In all of that she's only wanted to divorce me once. That was after I had taken a 4 1/2 month sojourn on the Pacific Crest Trail. Yep, I backpacked from Mexico to Canada without here. Divorce has never come up again in our marriage as we vowed at that moment to play on the same team.
We've gone through a lot together over the last 16 years (we've now been married 23 years). Make sure to listen about our past in Episode 004 of the ONE Extraordinary Marriage Show because we know that if we have gone through tough times you probably have too.
In honor of my wonderful wife I bring to you 16 Reasons Why I Still Love My Wife.
1. She Makes Me Laugh
Alisa is and always will be more serious than me. She said it during Laughter for the Soul and yet she makes me laugh. There are little things she does that bring a chuckle to me and that is awesome!
2. Her Eyes Sparkle
Her eyes are a window to her soul and they sparkle as we communicate and dig into our emotional intimacy. It is during these conversations that I get to witness something absolutely beautiful.
3. During Tough Times She Never Gave Up On Us
Huge, huge, huge. During the darkest valleys that we have gone through Alisa never gave up on us. Don't get me wrong, there were tough conversations, tough situations, and nights where we didn't want to be next to each other. Even though she always wanted our marriage to last.
4. We've Grown Closer Together
5 years ago we took on the 60 Days of Sex Challenge and our marriage has never been the same. Every year since then we have done a 7 Days of Sex Challenge to bring us emotionally, spiritually, and physically closer together.
5. Her Cooking Has Gotten Much Better
Frozen fish sticks, frozen pizza, bean burritos, and pasta with Rago sauce (I'm Italian) was what we ate our first few years of marriage. Talk about tough times. Over the years we have learned to cook together, which has brought enjoyment to both of us. On top of that we eat much better around here.
6. We Dream Together
Both of us dream, share those dreams and then go after them. We've achieved many, we're working on some right now, and there are dreams that are just a glimmer on our horizon.
7. Sex For 60 Days
We had sex 40 out of the 60 days. That is amazing, but what's beyond amazing is that Alisa said "Yes" after she said "No". Since them we have completed 13 challenges ranging from 7 days to 30 days over the past 12 years.
8. We Got Close in a Two-Person Tent
Early in our marriage we did quite a bit of backpacking. We backpacked all over Southern California, Yosemite National Park, Sequoia National Park and many other areas. You really get to know your spouse when you're sleeping in a 4'x8′ space. These are memories that will last forever.
9. She Trusted God's Plan For Us When I Didn't
Alisa's rock solid faith in God has been inspiring to witness. When I would question God's plan she was the one who listened and quieted my soul.
10. Warmth of Her Hugs
It is in her arms I'm safe and know that either sharing my joys or sorrows I am loved. Plus hugs are so beneficial to both husband and wife. She also has amazing arms from working out. We don't workout together as we have two different workout styles. 🙂
11. We Can Cry Together
Tough as it was for me to show this emotion in our marriage, I have now come to realize it is one of the most important to show. Crying has blown up our marriage by letting us know that we are vulnerable and need each other.
12. Long Conversations Have Intertwined Our Souls
Little did I know when we first got married that having long conversations would have such an impact on our lives. It was tough to do this as I wasn't the one to sit and want to talk. When we began to ask and answer questions that is when we grew closer. Get your FREE copy of Connect Like You Did When You First Met: 101 Proven Questions for Couples.
13. Changing It Up
Over the years it is really easy to get into the same routine with our sex lives. Alisa has always been willing to make our bedroom a sanctuary. These changes have made a huge impact on our marriage.
14. She Doesn't Keep Score
This has been a big breakthrough for us. We serve each other instead of keeping score on what we have accomplished around the house. There are no more her jobs and my jobs. They are all "our jobs" and we make sure they get completed.
15. No Rejection Zone
Alisa made a choice during our 60 Days of Sex Challenge to make our bedroom a no rejection zone. Now when I initiate sex I'm no longer left to wait for her to finish in the bathroom, a book, or wait for me to fall asleep.
16. Love at First Sight
I wake up each and every morning next to my beautiful wife and I'm remind why I'm one lucky guy. I fall in love with her all over again. Then the kids wake up and who knows what the days going to bring. ; )
Our Love Will Last
Love is patient and kind. Love is not jealous or boastful or proud  or rude. It does not demand its own way. It is not irritable, and it keeps no record of being wronged. It does not rejoice about injustice but rejoices whenever the truth wins out. Love never gives up, never loses faith, is always hopeful, and endures through every circumstance. Love will last forever!
(1 Corinthians 13:4-8 New Living Translation)
What is it about your spouse that you still love since you said "I Do"?
Disclosure of Material Connection: Some of the links in the post above are "affiliate links." This means if you click on the link and purchase the item, we will receive an affiliate commission. Regardless, we only recommend products or services we use personally and believe will add value to our readers. We are disclosing this in accordance with the Federal Trade Commission's 16 CFR, Part 255: "Guides Concerning the Use of Endorsements and Testimonials in Advertising."