Kissing, a touch with the lips as a sign of love or sexual desire, is a special act between you and your spouse.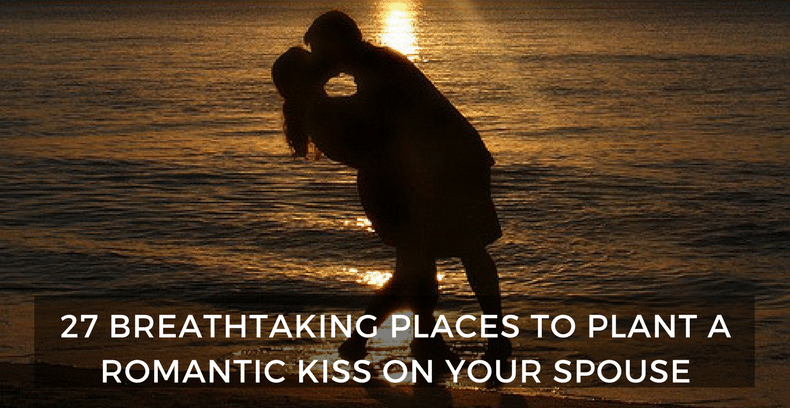 If done at the right time and place it can ignite passion, desire, and lead to something more.
Where you are when you plant that romantic kiss on your spouse can multiply the romance and connection between the two as well.
So grab your spouse, close your eyes, and plant a romantic kiss on their lips in one of these special places.
Watching the sunrise or sunset on a secluded beach
Standing on a bridge
By a creek as you share a picnic
Under a rising full moon (must watch video)
In an outdoor shower
As fireworks explode overhead
On top of a mountain
While exploring an ancient ruin site
In a natural hot spring
On top of the Eifell Tower, Paris or Las Vegas
Sitting by a beach bonfire
Yosemite Falls, Yosemite National Park
On a clear starry night
Cuddling on a hammock in the rain forest
Sitting on top of a RV watching a NASCAR race
On a narrow gauge railroad train
Laying on a bear skin rug
Gondola ride in Venice, Italy
Beside a roaring fire as it rains outside
On a cable car in San Francisco
1500 feet up in a hot air ballon
On a cliff overlooking the valley below
In a glass elevator
Paddling a kayak together in a lake or the ocean
Ice skating on your own private rink
On the top of a ferris wheel
Laying amongst the spring flowers at a park
Now that you have some places to go add your own special twist to each of these and plant that romantic kiss on your spouses lips.
Share with us the most breathtaking place you have been kissed by your spouse in the comments below.