3 UNDERWEAR SECRETS THAT WILL SPICE UP YOUR SEX LIFE
"Vestis Virum Facit" —Erasmus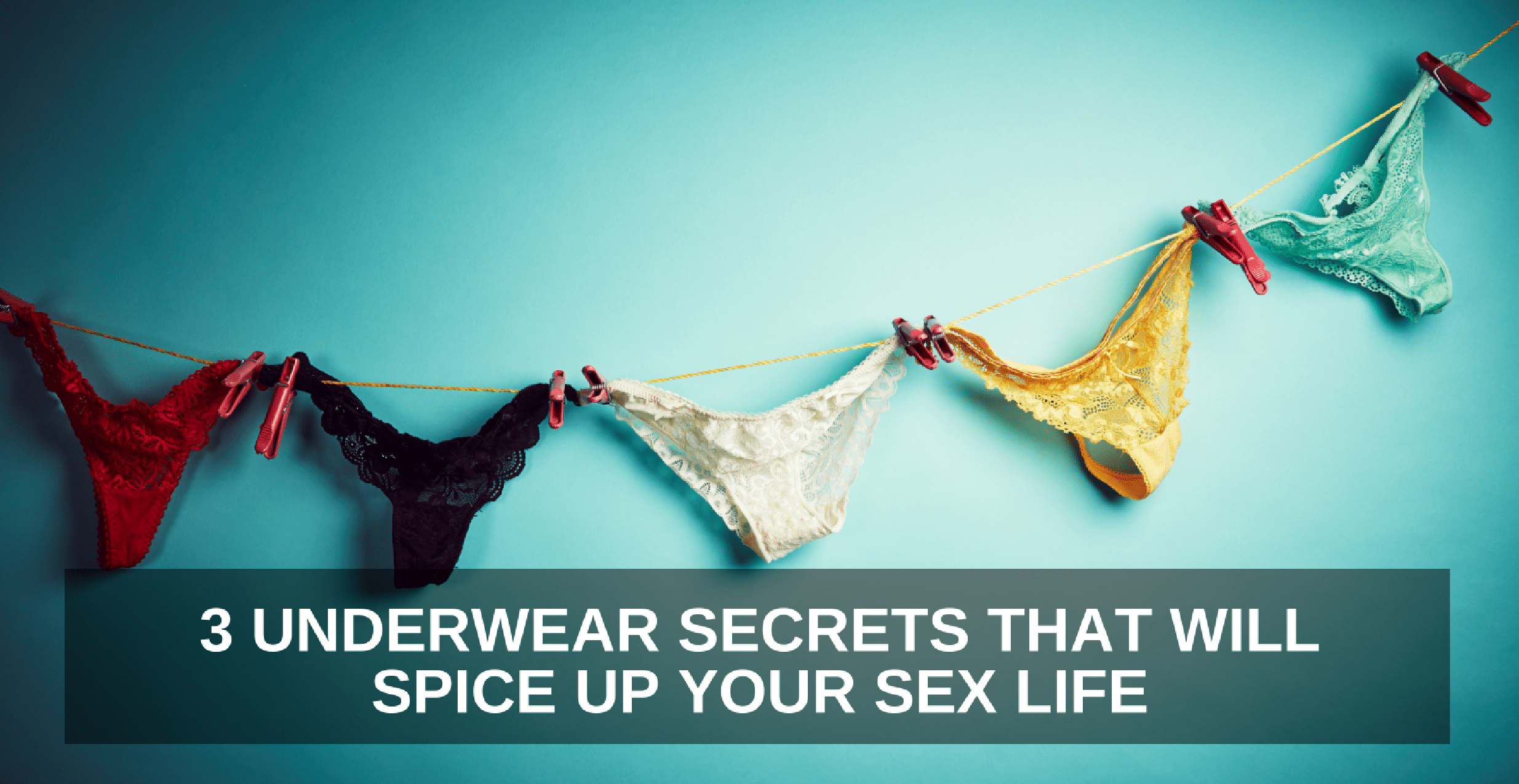 Translated: Clothes make the man.
Being defined by what we wear is as old as mankind itself.
You know the story about Adam and Eve shopping at Fig Leaf emporium and we're sure that Noah was tempted to make a bear skin coat on those cold, sea faring nights. 🙂
Throughout the ages, it's been true that what you put on, can change the way you feel about what's within you. No matter how "odd" it all might seem.
From men in tights in Shakespeare's era to women donning trousers in 1920, fashion has always played a huge role in what it means to be human.
Perhaps there is no more telling garment than the garment that hides the most intimate parts of you.
You wear it under everything else, but for your marriage (and your self confidence!) it should be viewed less as an afterthought and more as a foundation you build everything else upon.
Why?
Think of it like this…
If your relationship with your spouse is the most important in your world, than the underwear only your spouse can see is your most important outfit.
The fig leaf you choose to cover your sexy self with matters.
Are you constantly picking out the one that the caterpillars have eaten a few holes in, or the occasional passing animal has left a few stains on?
Stop it!
There is more at stake than your covering and comfort.
If you haven't upgraded your unmentionables in a while, here are a few reasons you should head to the store today.
You Look Good, You Feel Good. You Feel Good, You Play Good
Look at the level of attention athletes give to how they look before a big game.
Think about the last big social event you went to. Did you feel a little extra pressure to dress your best, make sure your hair was put together right, and that you were accessorized appropriately?
Heck yes you did.
You know that the bigger the occasion, the more your focus goes to looking good.
What bigger occasion is there for your marriage than being intimate with your spouse?
You will give your best when you look your best.
It can seem really meaningless, but you know it isn't.
Your sex life is one of the major components of a healthy marriage. It grows when you give it attention.
So look the part.
You Won't Have to Guess "What Time It Is"
'Cause you'll know it's bizness time…
Ponder this quote by the famous philosopher, Anon.
"If her bra matches her panties when you take off her clothes, it wasn't you who decided to have sex."
It's like a road sign that leads you right down easy street to pleasure town.
The on ramp to a healthy marriage has enough potential missed turns and pitfalls. Don't make your SPS (Sexual Positioning System) harder to read than it has to be.
Give your spouse a definite direction.
Here's two of our favorites for him and her to get you in the right time zone.
Wives pick these up and husbands pick these up.
Your Spouse Gets to Be Your Standard of Hotness All Over Again
You are bombarded with imagery of other people all the time.
All you have to do is look at any ad in print or video and you'll be confronted with the marketing adage, "sex sells."
It also can put a rift between you and your spouse.
Putting your spouse as your standard of beauty (not Abercrombie or Victoria) is one of the wisest things you can do.
Just because your bodies have changed throughout your marriage, doesn't mean your appreciation for each other has to.
Putting yourself in something that is flattering to you, makes your spouse take notice of all the right areas, and helps you feel like you are the sole object of desire for your lover.
It  is fuel on the flame of even the smallest ember.
This is one of the easiest ways to make sure the image of you is the sole focus your spouse has throughout their day.
So there you have it.
Get yourself a little intimate wardrobe makeover and get ready for a very definite mood to hit you both.
Disclosure of Material Connection: Some of the links in the post above are "affiliate links." This means if you click on the link and purchase the item, we will receive an affiliate commission. Regardless, we only recommend products or services we use personally and believe will add value to our readers. We are disclosing this in accordance with the Federal Trade Commission's 16 CFR, Part 255: "Guides Concerning the Use of Endorsements and Testimonials in Advertising."