"Don't rush through foreplay. Play with each other until you can't take it anymore." —Anonymous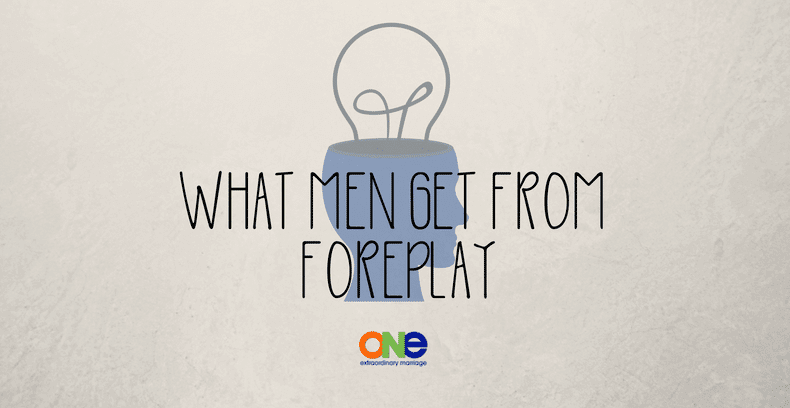 Foreplay is probably a lot more than what comes to mind when you hear the word.
It is the emotional and physical intimate acts between husband and wife meant to create sexual arousal and desire for sexual activity.
This often starts before you get to the bedroom, with clothes still on, and sometimes even before a kiss or embrace.
We talk regularly about the benefits and perspectives for wives regarding foreplay — but most people take for granted all husbands need and appreciate about foreplay!
We want to uncover the real truth for husbands in those 5 – 20 minutes (average) before having sex. What should wives know? What is normal for husbands? How can we make the most of this intimate time for both spouses?
We want to share what is going through his head, because guys battle mental games, too. Most men fear losing their erection. They want to focus on pleasing their wives, but also uphold their stamina.
In an effort to help couples make foreplay fun and enjoyable for both husband and wife, we have a few tips:
It can start as early as you say "Good Morning", and each of your subsequent interactions will either be affirming or detracting from your pursuit of your spouse. What you wear for your spouse communicates volumes.

Wives — ask your husbands what arouses them once physical intimacy has begun. We often hear that having their wives communicate enjoyment, either verbally, vocally, or with body language takes away anxiety.

Don't bypass the non-sexual foreplay: conversation, making out, or being active together have incredible power to create a more satisfying sex life.

Just like every other aspect of marriage, foreplay is a two-player activity. If only one partner is exerting effort, there will be minimal reward. When both spouses participate for the other's benefit, there is an exponential return on investment!
Make foreplay that time when both of you get sexual arousal and the desire for sexual activity is heightened.
HelloFresh is a meal kit delivery service that shops, plans, and delivers your favorite step-by-step recipes and pre-measured ingredients so you can just cook eat and enjoy.
All the ingredients come pre-measured in handy,labeled meal kits, so you know which ingredients go with which recipe.
HelloFresh offers a wide variety of chef-curated recipes that change weekly  with Three plans to choose from: Classic, Veggie, and Family
Take $30 off your first week of deliveries when you enter promo code OEM30.
Other Resources:
ONE Extraordinary Marriage Daily Steps
Strategic Coaching Session with Alisa
Support ONE Extraordinary Marriage by shopping at Amazon.com.
Leave a review on iTunes | Submit a question | Call (858)876-5663