"Every morning starts a new page in your story. Make it a great one today." —Anonymous
The most popular time for couples to have sex is Saturday at 7:33am. It makes sense that it would be a weekend, most people are off work, many go on dates and outside obligations tend to be minimized.
But we don't want you to miss out on an intimacy superhero just because it might take a little bit more strategy.
As we discussed on episode 424 The Anatomy of an Erection, when you and your spouse first wake up is often coupled with high arousal. There are all sorts of benefits that come from morning sex — the stresses of the day haven't work you out emotionally, you're already in bed together, a shower and getting dressed are imminent anyway, and your body is relaxed. Needless to say, many men desire sex when they first wake up but might be reluctant to ask for it.
For many couples it's the perfect time to occasionally have sexual intimacy. But so many skip over it with simple excuses.
We're all about being real at ONE, so we tackle challenges head-on. Hurdles might include waking up at different times. You might have little kids who might interrupt. You might be uneasy with having daylight sex or not know how to initiate in this new setting.
The reality is that 25% of people say they are most aroused first thing in the morning, but only 10% of couples have sex at that time. We're not proposing you only have sex in the mornings, but with that significant of a gap, we want you to be equipped to overcome the obstacles.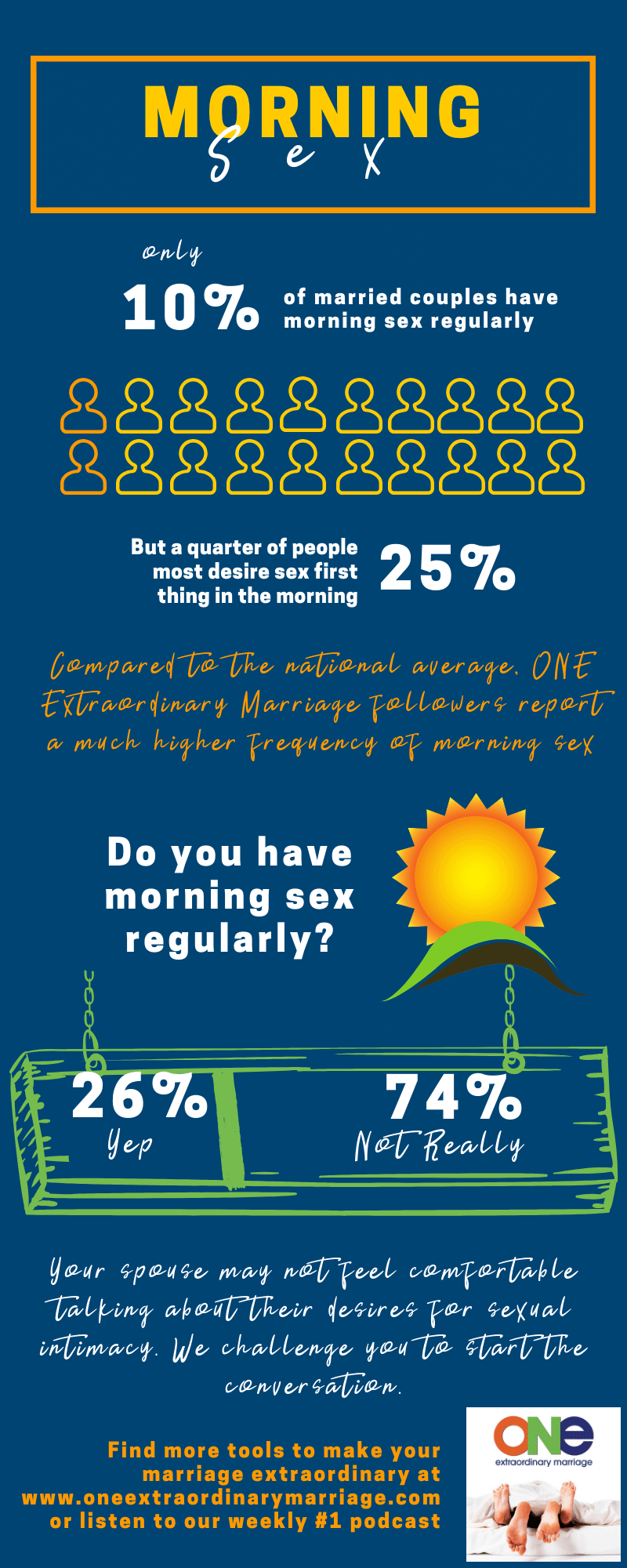 How can you do this?
You talk about schedule. Wives, ask your husband, "Would you appreciate having sex in the mornings?" Perhaps it's something you work into your schedule once a month, or once a week.

Be honest about logistics. Maybe using the restroom and brushing your teeth will make it more enjoyable – share that with your spouse! With that understanding, you can use these steps as part of your initiation.

Know your surroundings. If little kids are a factor, morning sex might be something you schedule to wake up a little earlier. Having some lube handy can also relieve potential dryness after a night of sleeping.
Whatever your particular concerns are, it's important to align them with you and your spouses' desires for intimacy. What challenges are simple enough that you can work through?
Carpe Manem.
HelloFresh is a meal kit delivery service that shops, plans, and delivers your favorite step-by-step recipes and pre-measured ingredients so you can just cook eat and enjoy.
All the ingredients come pre-measured in handy,labeled meal kits, so you know which ingredients go with which recipe.
HelloFresh offers a wide variety of chef-curated recipes that change weekly  with Three plans to choose from: Classic, Veggie, and Family
Take a total of $60 off, that's $20 off your first three boxes enter promo code OEM60.
Other Resources:
ONE Extraordinary Marriage Daily Steps
Strategic Coaching Session with Alisa
Support ONE Extraordinary Marriage by shopping at Amazon.com.
Leave a review on iTunes | Submit a question | Call (858)876-5663