Positive words can inspire and negative words can destroy. Choose wisely.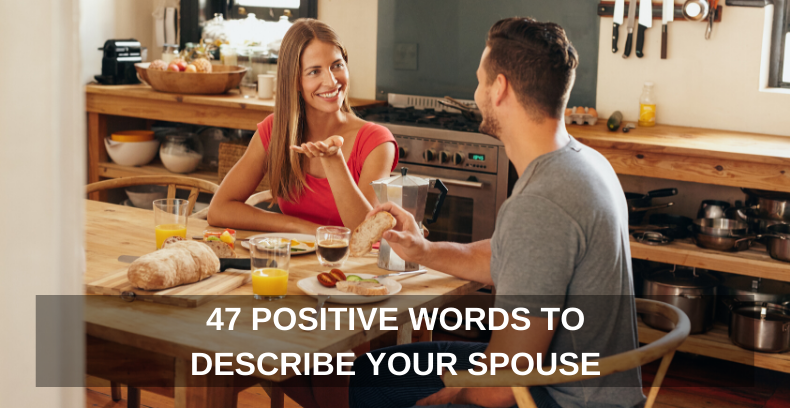 You have the power to build your spouse up with the words that you speak over their life.
Unfortunately, over time you may get distracted with all that is happening in your life that you forget to speak positive words over your spouse.
When you hold back from showering your love with positive words both of you are impacted.
In our own marriage we have experienced the benefit of using positive words over each other. When positive words are spoken over your spouse, you'll be surprised at the transformation that will begin to occur.
At this time you may be thinking that you don't know what word best describes your spouse.
This is where these 47 positive words come in to place. As you read over the list of positive words, pick 1-3 that would be easy for you to use on a daily basis.
There are a number of ways that you can share your word or words with your spouse. You can say it to them in the morning when they get up. Maybe write them a letter once a week where you underline your word to them so that they notice. Another option might be to text them.
Here's the thing thought… you're going to have to be bold when you first start. Take the bold step to speak life into your spouse and watch them grow.
Choose from this list of 47 positive words.
Amazing
Special
Beautiful
Affectionate
Sexy
Dependable
Compassionate
Patient
Supportive
Irreplaceable
Fantastic
Loyal
Caring
Confident
Romantic
Reliable
Courageous
Smart
Handsome
Awesome
Gorgeous
Determined
Faithful
Lover
Passionate
Authentic
Bright
Adventurous
Protector
Provider
Strong
Humorous
Fun
Delightful
Outgoing
Captivating
Muscular
Dedicated
Leader
Inspirational
Thoughtful
Articulate
Respectful
Integrity
Blessing
Cute
Magnetic
There you have it 47 positive words that you can speak over your spouse. Right now when these are fresh in your mind add that one word or words to the note section in your phone and remember you need to speak or share the word with your spouse.
Click HERE to Buy Now
Change happens in your marriage when you are willing to take action to do something that you didn't think you could do.
Change happens when you step out in faith, knowing that what you say may not have a response and yet you continue to speak life into your spouse.
It's time for you to be the change in your marriage.