5 WAYS YOU CAN LAST LONGER IN BED
When it comes to making love many of us would be overwhelmed with joy if the intercourse portion would last longer.
Many couples, us included, have experienced those times when foreplay is pleasurably drawn out and yet it's to the closes point of ejaculation.
When this happens it's a mad rush to penetration as there is only a few of seconds before ejaculation.
In that moment you feel amazing as you and your spouse have experienced a closeness through your sexual intimacy.
On the other hand you feel embarrassed because you finished so quickly or you're self-conscious because of the quickness of your ejaculation.
Having been married for 21 years we get where you are if this is something that you have experienced.
Here are some quick insights for you to mull over as you read:
60% of U.S. men feel that finishing too fast is embarrassing and yet this equates to roughly 77 million men who are made to feel less than adequate about a common occurrence.
Nearly 37% of women say they are disappointed when a partner finishes before they do. This is commonly known as the O Gap.
Due to media messages of sexual norms 40% of men feel self-conscious about their own performance.
When you experience this it can cause friction between you and your partner which can begin to weaken your marriage.
Since we are always looking for ways to strengthen your marriage and your sexual intimacy there are 5 ways that you can experiment with to last longer in bed.
BREATHE
Slow down your breathing.
In the moment you may be breathing rapidly as your heart rate is up and you are excited. You may even be holding your breath during sexual intercourse.
Both of these are not a good practice if you want to last longer in bed.
It is during this time that you need to breathe deeply and relax your body.
When you slow down your breathing and focus on the present moment you may end up lasting longer as well as experience new pleasures.
STOP AND START METHOD
This is one of the best methods and yet it's one of the hardest to do.
From our experience you and your spouse need to be aware that this is going to happen during intercourse. If not, she may roll over thinking your done and you're left hanging.
The method is fairly simple and yet you have to have the fortitude to be able to pull this off when the sensations of intercourse feels so good. 🙂
Here's how you can last longer with this method…
You need to withdraw as soon as you are about to ejaculate.
Give yourself some time to let the sensation subside.
Once the sensation has passed, you can begin intercourse again.
Ejaculate or continue the method until ejaculation.
This method prolongs your sexual pleasure by withdrawing and penetrating again (however many times you determine) as well as possible giving your partner multiple vaginal orgasms if she experiences these this way.
SQUEEZE METHODS
If you are one who tends to ejaculate before penetration this one is for you.
As this method suggests you will squeeze the tip of your penis as soon as you feel yourself about to ejaculate.
How it works:
At the moment of ejaculation you will squeeze the tip of your penis for ten to twenty seconds.
Maintain the squeeze (you will need to experiment with the pressure) until the feeling subsides.
When the feeling has passed, wait around 30 seconds and then begin intercourse again.
Continue doing this method until you are ready to ejaculate.
SEXUAL POSITIONS
Another way to last longer is to switch it up in your bed. It's time to dump the missionary position and try these positions for longer intercourse. Here are three you can try today.
1. Woman On Top: The man will lay on his back (with or without a pillow under his head). Straddle him, with your legs on either side of his body, and ease onto his penis. Then lean forward and prop your body weight on your elbows.
2. Spooning: Both of you lay on your sides, facing the same direction. His pelvis should be lower than hers. Bend forward at the hip and have her lift her top leg. This will allow him to insert his penis from behind. If necessary make sure to use a little lube for easier penetration.
3. Sitting On A Chair: The man will sit on a sturdy chair preferably with armrests. Your wife will face away from you, and lower her butt onto your lap. Make sure you use your hand to guide your penis into her vagina. The armrests can be used for extra support.
DESENSITIZING SPRAY
There are sprays on the market that you apply to the tip of your penis that decrease sensation during intercourse but allow you to last longer.
One of those desensitizing sprays is Promescent.
On multiple occasions I have had the opportunity to try this and I will have to say that it does work. Each time that I applied Promescent before intercourse it took me longer to ejaculate once there was penetration and this was after heavy foreplay.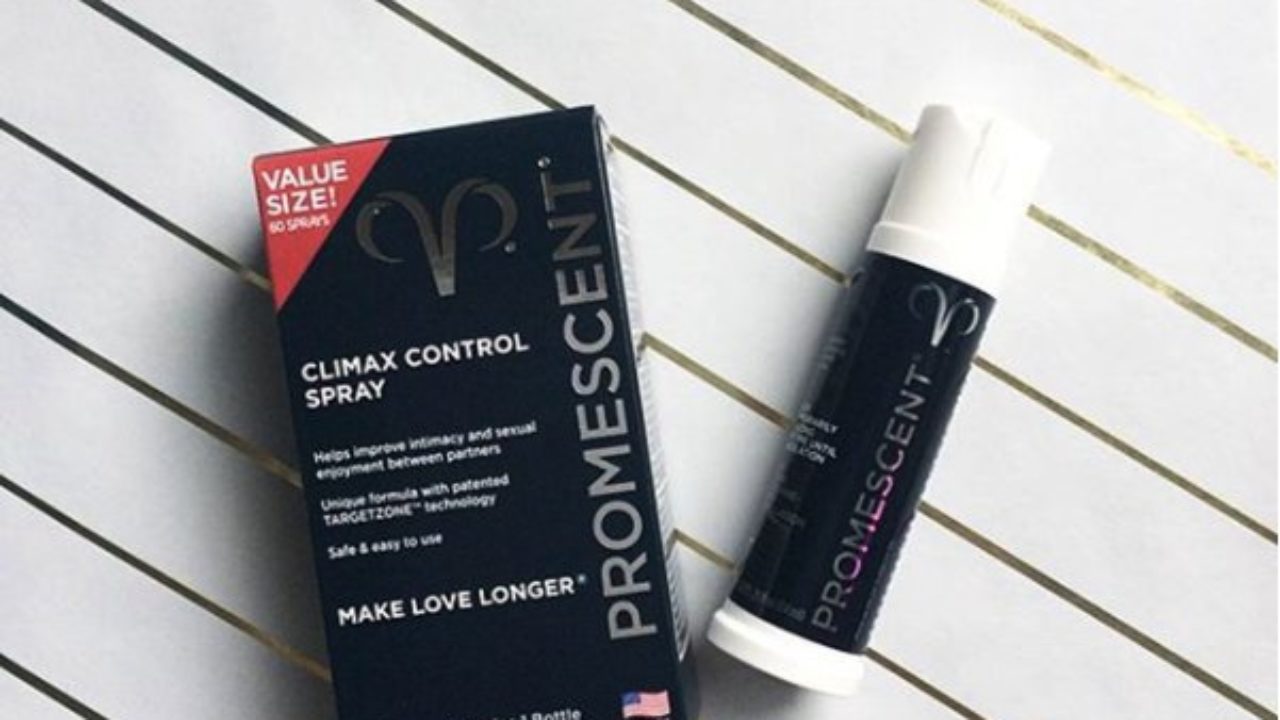 Click Here Buy Promescent Delay Spray Now
That's a big plus!
The drawback to a desensitizing spray is that you are numbing the tip of your penis. This equates to less sensation.
You will need to determine the number of sprays that is best for you so don't toss it after one try. I almost did this and I'm glad I didn't.
Which ever method you use to last longer it's for both you and your spouse's enjoyment.
Disclosure of Material Connection: Some of the links in the post above are "affiliate links." This means if you click on the link and purchase the item, we will receive an affiliate commission. Regardless, we only recommend products or services we use personally and believe will add value to our readers. We are disclosing this in accordance with the Federal Trade Commission's 16 CFR, Part 255: "Guides Concerning the Use of Endorsements and Testimonials in Advertising."