"One cannot plan for the unexpected." —Anonymous
There will always be times in your marriage that you know are going to be a challenge. This is because sometimes, life simply gets in the way.
We can't plan for the unexpected, especially when it comes to injuries. When it happens, it quickly turns life upside down. Tough seasons happen. 
When an injury happens to a member of your family it can be very tough. Beyond the basics of being distracted and having more on your plate than normal, there are so many other things to contend with.
Your Intimacy Lifestyle and your marriage are going to take a hit. You'll quickly realize you're in a season that's filled with unknowns:
Middle of the night emergency phone calls.

Doctors visits. 

Loss of independence (for everyone)

Managing pain.

Calls to the insurance company

Hearing from others with similar surgeries (good and bad stories)

Surgery

Pain medications

Physical Therapy

And all the waiting…there is so much waiting.
The "unexpected" also seems to happen at the worst times. There's going to be something you've had scheduled for months. There's going to be interruptions to work. 
And yes, you're still going to have to figure out how to take care of all of the other life things that you have AND the Intimacy Lifestyle.
When you are thrown off your rhythm, it's only further impacted by fatigue / distraction. And yet, you still have to make your marriage a priority. Even when theses tough seasons happen.
None of us are immune to the unexpected. 
The question you need to ask yourself is what is your foundation? What are those habits, patterns, and strategies that you have built into your marriage to help you weather the storms?
You have put those strategies in place to help you stay connected. Now you just need to fall back on them to stay the course.
This is where a Walk and Talk can come into play. Communicate what is going on with you and do it outside the chaos of what's happening at home. 
Remind yourself about your commitment to The Intimacy Lifestyle. Keep it in the forefront even when you have to adjust.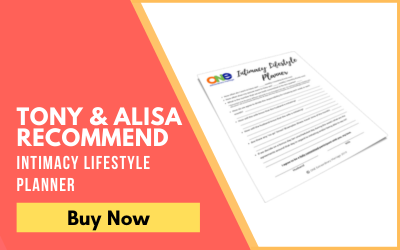 Click HERE to Buy Your Intimacy Lifestyle Planner Now
Don't forget to do the "normal things" as much as possible. It is a huge comfort when things feel disconnected. You may feel as if you don't have the time but that's why you need to make the time to focus on each other. 
Even if you have not experienced tough seasons, you need to always be building upon this foundation when times are good so that you have them to fall back on when you face challenges.
We hope the unexpected never strikes you but if it does, you'll be thankful you put these practices into place now!
Join Tony and Alisa for a marriage conference unlike any other! True to the ONE Extraordinary Marriage approach, we cut straight to the heart of hurdles in your marriage.
The ONE Conference unites you with your spouse, connects you with others in the ONE Family, and enhances intimacies in your marriage.
Register today before it sells out.
Other Resources:
422: What Is The Intimacy Lifestyle
Strategic Coaching Session with Alisa
Support ONE Extraordinary Marriage by shopping at Amazon.com.
Leave a review on iTunes | Submit a question | Call (858)876-5663