"Our goal should be to understand our differences." —James D. Watson
Desire has been a word that's created havoc in many marriages, more than likely since the beginning of time.
Desire can be amazing or disappointing and stressful if it's not fulfilled. That's because in a marriage it's often used in reference to sexual appetite, which can vary for each person. 
It's this difference in sexual desire that causes challenges in marriages. Bitterness, resentment, anger and even guilt are common when desires do not match between you and your spouse. 
Both men and women can experience high desire or low desire moments. That's because desire IS NOT gender specific. It should also be noted that your desire level now may not be your desire level in the future. 
Desire can change over the course of a marriage due to many factors like:
Sadly society has led all of us to believe that these differences in sexual desire should be expected and accepted in your marriage. That's not true. 
Whatever your current level of desire is, it can change.
That's why you need to discuss desire within your marriage. Those feelings of being rejected, unloved, or unwanted can spiral into something so much bigger. Don't let these fester and cause more issues. 
If sex has become a tug-of-war between you and your spouse then take action. Waiting for it to get better won't get you to where you want to be. 
And don't think that figuring out how to make your current desire levels work is just one partner's responsibility. It's not. It's also not the sole responsibility of the low desire person to figure out how to become a high desire person. 
Both of you need to work together to navigate this season.
One of the goals of every marriage should be understanding your differences and then creating a plan that works for your marriage.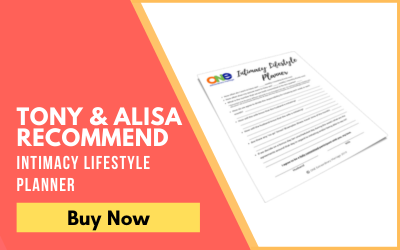 Click HERE to Buy the Intimacy Lifestyle Planner Now
When you understand that differences in sexual desire are normal but they don't have to be set in stone, you'll realize that you simply need to communicate more and support each other more. 
You can have a healthy sexual connection with differences in desire when you choose to make your marriage all that it can be.
Join Tony and Alisa for a marriage conference unlike any other! True to the ONE Extraordinary Marriage approach, we cut straight to the heart of hurdles in your marriage.
The ONE Conference unites you with your spouse, connects you with others in the ONE Family, and enhances intimacies in your marriage.
Register today before it sells out.
Other Resources:
422: What Is The Intimacy Lifestyle
Strategic Coaching Session with Alisa
Support ONE Extraordinary Marriage by shopping at Amazon.com.
Leave a review on iTunes | Submit a question | Call (858)876-5663