"Love is about growing as a couple, learning about each other, and sticking together." —Anonymous
Starting a sex challenge is not just about having sex. It's about setting yourself and your marriage up for success so you experience a new connection both emotionally and physically. 
For some, in the early years of marriage, sex can be less about the emotional connection and more about the physical needs you both have. 
There are questions about desire, pleasure, and sexual intimacy. You may have experienced times when sex was really good, and yet there may have been times when it wasn't as you expected. 
But a challenge can change all of that.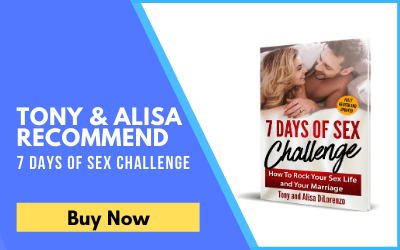 Click HERE to Buy 7 Days of Sex Challenge Now
Sex is both a physical and emotional act that you experience together. It's fueled by anticipation. Romance is a vital part of your marriage. What worked in the beginning might need to change. This is a great time to ask what your spouse needs from you to feel more intimate with you. 
Your spouse wants to feel desired by you. When doing a sex challenge of any length, both of you need to pursue one another.
As you up your romance game with one another and start having a lot of sex you need to know what happens with your bodies. 
Ladies, it's important to know that your natural lubrication *cervical fluid* is at its height during ovulation. For many women this is the week that they are most sexually adventurous and/or have heightened desire.
During the other weeks of the month you may have to use lube. 
The most important thing a woman can do is to learn how her body works and communicate with her husband in a supportive way.
Guys, you need to know that there is a very real possibility that over an extended period of sexual activity, it can become harder (pun intended) for a man to achieve an erection and maintain it. This isn't always the case, but it can happen. 
It's important to have the conversation on how the two of you are going to adjust if any of these things were to happen. When you have the knowledge you need and work together, it will be easier for the two of you to focus on each other rather than any obstacles you may come across.
563: Step Into a Sex Challenge: Part 1 — More Than Just Sex
565: Step Into a Sex Challenge: Part 2 — What You Need to Consider
567: Step Into a Sex Challenge: Part 3 — Putting It All Together
Every marriage is unique and amazing! We're here to see you experience the extraordinary. That's why we have the Position of the Month Club! It is the #1 Community for Couples who want Better Sex in and out of the bedroom.
The Position of the Month Club is a community of folks who uplift and encourage each other, who are willing to be vulnerable and take off the masks about all areas of their marriage in order to strengthen their connection and their relationship.
Other Resources:
Top 10 Ways To Initiate Sex With Your Spouse
Strategic Coaching Session with Alisa
Support ONE Extraordinary Marriage by shopping at Amazon.com.
Leave a review on iTunes | Submit a question | Call (858)876-5663