"What makes you vulnerable makes you beautiful." —Brene Brown
Do you watch your spouse get undressed? Do they enjoy this?
The answer to this question might surprise you.
Did you know there's something around the idea of actually getting undressed that can be a stumbling block for couples? It's quite possible your spouse feels uncomfortable when you watch them undress.
Although getting dressed and undressed is a daily part of life, your comfort level with watching or being watched might be something to explore. It can also be another opportunity to build a connection in your marriage.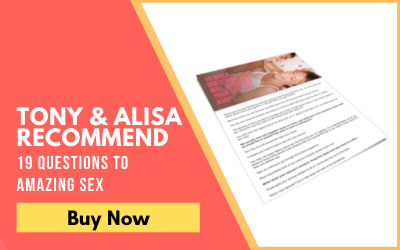 Click HERE to Buy 19 Questions to Amazing Sex Today!
People forget that even the most mundane activities of daily living can be a chance to become closer to one another. To get the benefits, however, we need to allow ourselves to explore them.
Getting undressed can be a vulnerable experience. Body image concerns are real. 
Feeling exposed is not an easy emotion to manage. It's easy to hide behind clothes.
When we expose our perceived flaws, or the parts of us we'd prefer to keep hidden, we may feel more vulnerable or experience other feelings like shame or frustration.
But undressing in front of your spouse should feel safe. It isn't just any old relationship. This is your marriage. That's why understanding how your spouse feels about getting undressed in front of you can change everything.
Of course, there are no right or wrong answers when it comes to your personal comfort levels. However, there is an opportunity for discussion in your marriage that can take place if either of you is not feeling comfortable.
If you've not considered asking this before, this might be the week to ask that question.
The purpose isn't to put your spouse on the spot but rather to deepen the emotional intimacy opportunities in your marriage. It's also a way to open up communication and let your spouse know you can talk about the tough stuff.  
Body image is something we all deal with in one way or another. It's also possible your body image may have changed over time. No matter what your level of comfort might be, you need to discuss that with your spouse. 
Undressing in front of one another is a part of the physical intimacy that happens within your marriage. While physical intimacy takes on many different forms, this is another one the two of you can have in your toolbox.
Every marriage is unique and amazing! We're here to see you experience the extraordinary. That's why we have the Position of the Month Club! It is the #1 Community for Couples who want Better Sex in and out of the bedroom.
The Position of the Month Club is a community of folks who uplift and encourage each other, who are willing to be vulnerable and take off the masks about all areas of their marriage in order to strengthen their connection and their relationship.
Other Resources:
470: What Color Is Your Underwear
350: Your Sexy Underwear Matters
Strategic Coaching Session with Alisa
Support ONE Extraordinary Marriage by shopping at Amazon.com.
Leave a review on iTunes | Submit a question | Call (858)876-5663