605: THE KISSING GAME: PART 2 — THE SCIENCE OF A KISS
"I believe in long, slow, deep, soft, wet kisses that last three days." —Bull Durham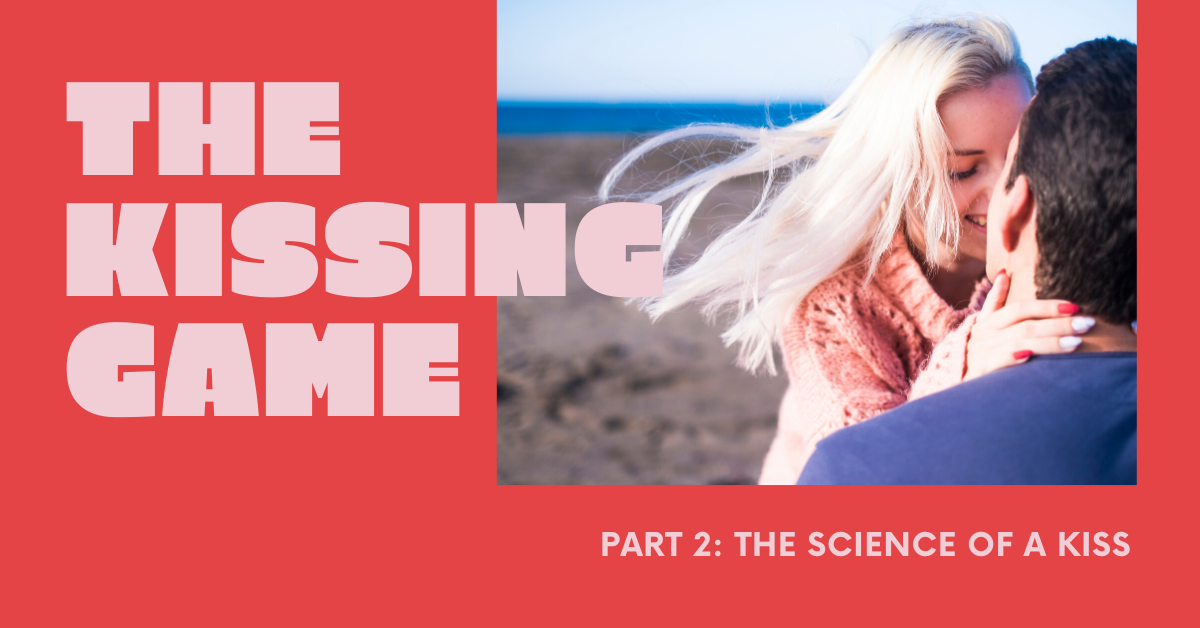 A psychologist at Butler University found that most folks can recall up to 90% of the details of a first romantic kiss. In fact, most people remembered this experience more vividly than their first sexual encounter.
That's because there is a whole science behind kissing. It's also a whole lot more than his lips and her lips (and maybe some tongue). 
From an anatomy standpoint, it's not just your lips that are involved in kissing. It's a full-body experience. Your head, nose, tongue, arms, and other body parts, including your brain, are all involved.
According to research, a simple kiss could use just a couple of muscles, whereas a deep, passionate, full-body kiss could involve upwards of  23 to 34 facial muscles and 112 postural muscles.  
But the science of a kiss goes deeper than that. 
Your lips are packed with nerves that send info to your brain about what is happening. You have all 5 senses in play too and you are recording all of this information about what's happening. 
Plus, let's not forget all those hormones that are being released the whole time, further impacting the experience. 
Dopamine is an amazing neurotransmitter that is associated with "the rush" or that butterfly feeling that takes a kiss to that  "Oh my goodness, that kiss was incredible," level.
Although your body is wonderfully made and has a natural ceiling for dopamine, over time the novelty wears off and oxytocin enters the scene. This hormone not only helps to cement the connection, but it can also boost mood and serve as a natural painkiller! 
When a woman has sex, her levels of oxytocin can peak 5 times higher than normal! 
Cortisol, the stress hormone, is also involved. It actually decreases as kissing increases. 
And then there's testosterone…
You may not know this but testosterone increases a woman's libido and creates a reaction in which her clitoris engorges with blood, all actions to prepare for sex. Since testosterone is present in saliva, women are sensitive to saliva exchanged during kissing.
There are studies that indicate that men prefer open mouth kisses. One hypothesis for this is that in those kisses there is a transfer of testosterone, and women are sensitive to it; therefore, she becomes more receptive to him. Which all leads to sex.
The science of a kiss is fascinating. When you think about the science of a kiss, what does it look like in your marriage? If you've not explored that, there is no better time than the present!
Listen to all 4 episodes of The Kissing Game series now!
603: The Kissing Game: Part 1 — Our Kissing Patterns
605: The Kissing Game: Part 2 — The Science of a Kiss
607: The Kissing Game: Part 3 — What Keeps Us From Kissing
609: The Kissing Game: Part 4 — Your Kissing Challenge
Every marriage is unique and amazing! We're here to see you experience the extraordinary. That's why we have the Position of the Month Club! It is the #1 Community for Couples who want Better Sex in and out of the bedroom.
The Position of the Month Club is a community of folks who uplift and encourage each other, who are willing to be vulnerable and take off the masks about all areas of their marriage in order to strengthen their connection and their relationship.
Other Resources:
The Science of Kissing: What Our Lips Are Telling Us
Strategic Coaching Session with Alisa
Support ONE Extraordinary Marriage by shopping at Amazon.com.
Leave a review on iTunes | Submit a question | Call (858)876-5663
Disclosure of Material Connection: Some of the links in the post above are "affiliate links." This means if you click on the link and purchase the item, we will receive an affiliate commission. Regardless, we only recommend products or services we use personally and believe will add value to our readers. We are disclosing this in accordance with the Federal Trade Commission's 16 CFR, Part 255: "Guides Concerning the Use of Endorsements and Testimonials in Advertising."