7 THINGS WE WISH WE KNEW BEFORE GETTING MARRIED
Hindsight is always 20/20. Foresight is a bit less than that. Oh, let's say, 20/400.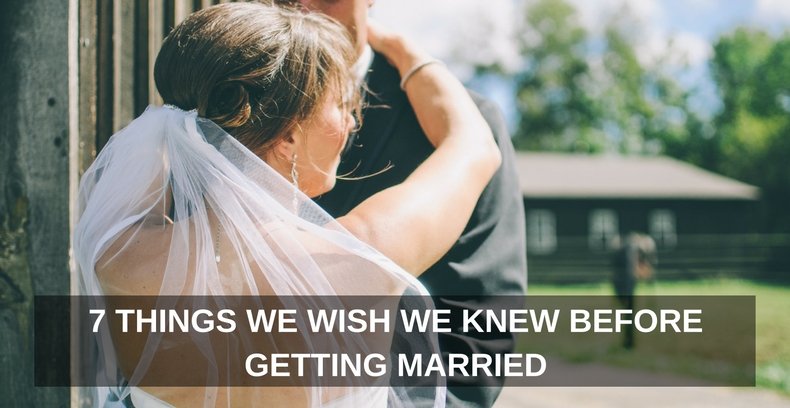 Often times, looking forward into the unknown with less than clear vision, can put us on a collision course with things we could have otherwise avoided.
The problem with bad vision is there is so much it affects.
You may struggle to discern what's in front of you when the light is dim or mistake hopeful landmarks for dangerous pitfalls or you may bump into things you could have otherwise avoided.
It's true that poor vision can greatly impact your life in the natural.
However, it's also true when we "look" out into the landscape of our married life.
"If only I knew then, what I know now."
There may be no shortcut to success, but there sure are moving walkways.
They are generally activated by listening to the sage advice of those who have been married and have walked these paths before you.
Listening to what they ended up seeing along the way can help you adjust your vision to steer clear of the same dangers and traps.
Finding folks that go before you is like LASIK for the journey.
Learn the 7 things we wished we would have know before we got married.
We hope they clarify how you see the future of your marriage.
1. The wedding day is just a day!
This is one that seems so simple, but it sure isn't easy.
You spend thousands of dollars, gallons of worry, and almost all your energy to get to the altar.
Then you leave very little for the alterations in you that will make your marriage work.
In a world that convinces you that overnight fame is just one big break away, you are setup to think that if you just have everything perfect for the wedding day, the rest of the union will go the same.
Unfortunately, we often see the opposite.
The couples who stand the greatest chance of success in the long term keep a healthy perspective.
Their "big day" is just one of many to come.
2. Expectations will let you down, but can be adjusted.
It is natural to put yourself in the judge's chair over your spouse's life and behavior.
You came into marriage with expectations about where socks would go, how many kids would join you, how many times you would have sex a week and who would handle the bills.
It doesn't take very long to realize that your princess can act more like a tantrum throwing child at times.
And your knight in shining armor leaves it lying around the house as often as he leaves the toilet seat up.
You are going to walk through life together.
This doesn't just mean the good days either. The vows don't say "For better and for better" for a reason.
There is going to be days where you love each other, but you may be wondering if you still even LIKE each other. That's ok.
We all go through it and it's part of the beauty of the journey.
It's not going to look at all like you thought it would, but if given the right time and energy, it will look a whole lot better than all that!
3. Guardrails will save your marriage.
Guardrails keep you on the road.
They also protect you and your spouse from the thousand and one things that will want to creep in and rob from your intimacy.
When you made your vows with your partner they are for life. In this time you are saying that you have made them your number one priority.
Just because you understand that between the two of you, doesn't mean everyone else in your world will understand it the same.
Family members, friends, work, sports, church life, Netflix, Instagram, chore lists and a myriad of options present themselves daily and weekly as temptations to put your spouse second.
None of those outside pursuits need to be bad in and of themselves (although don't use this as an excuse to keep engaging in damaging behavior such as, porn, illicit relationships, disrespectful friends etc).
When these are placed above your spouse in priority, they can be very damaging indeed.
We wish we knew that protecting our marriage always needed to be our number one priority.
All healthy things flow from this place.
Click HERE to Get Your Copy Today
4. Sex is not going to work the way you want it to.
We kind of covered this in talking about your expectations, but this is such a huge area for most couples, it needs special attention.
Your sex life is just that, a sex LIFE. Don't judge it by one or two experiences.
Many couples don't have the mind blowing sex they hoped for right off the bat! That's normal.
It may take you months or even years to hit your stride.
We wish we would have kept the frustrations at bay because it's one awesome area of life to get to explore and grow in.
Give yourself permission to have a sex LIFE!
5. Invest in your married life.
An investment is expected to grow in value as time goes on.
Find things that will make your marriage grow!
Don't apologize in a world that loves to keep the status quo. Growing things are healthy things.
Get yourself resourced to grow in the most important area of your life.
6. Don't keep secrets.
What's done in the dark will be brought to the light.
It's always better that your spouse hears it from you than any other source.
Be on the front foot about airing out the dirty laundry so you can build trust with your spouse, not tear it down.
There's a right and wrong way to do this.
Be open about letting your spouse know how much you love and value them as your intention wasn't to hurt them in the first place.
Keeping a wound hidden will lead to infection and will ultimately make it harder to heal.
We wish we knew not to let things fester, but to bring them to each other, even if it was hard.
7. Enjoy fun adventures together.
We finish with this one because it can seem so small, but it's actually really huge!
A commitment to fun and romance can be what keeps you sane amidst the mess.
Learning to laugh at the same things that used to make you cry is a great way to remind yourself of how far you've come.
Taking some time for frivolity reminds you that all the problems you are facing maybe aren't as big as your ability to face them.
The more you get into the crazy plans of life, the more an adventurous spirit and spontaneity can keep you in balance.
A good couples massage, sleeping in, going to a new restaurant, planning a vacation, laughing together, may not be your meat and potatoes, but it sure gives everything the seasoning you need to make it all pleasurable.
There are many more things we wish we would have known but these are some of our biggest.
Don't be afraid to reach out to other successful couples as well and see what they did to make them flourish.
It may be just the vision adjustment you and your partner need!
Disclosure of Material Connection: Some of the links in the post above are "affiliate links." This means if you click on the link and purchase the item, we will receive an affiliate commission. Regardless, we only recommend products or services we use personally and believe will add value to our readers. We are disclosing this in accordance with the Federal Trade Commission's 16 CFR, Part 255: "Guides Concerning the Use of Endorsements and Testimonials in Advertising."