ANNOUNCING THE 7 DAYS OF SEX CHALLENGE
We are excited to have you join us for the 1st Annual ONE Extraordinary Marriage 7 Days of Sex Challenge!
As this year rolls by faster than the last, Alisa and I have decided once again to have sex for 7 days straight leading up to our church's marriage retreat.
Over the past 5 months we have heard from many of you that you would like to do a 7 Days of Sex Challenge, but are not quite sure if you and your spouse would be ready for such a challenge.
Well, it's time to stop thinking about having sex for 7 days straight and join us from June 6th to June 12th, 2010 as the ONE Community comes together to make our bed sheets and our marriages shake with enjoyment.
Have you heard us talk about our 

60 Days of Sex

and thought "I wonder if we could do that?"
Has your marriage lost some of the spark because life gets in the way? We're talking about bills, jobs, and all of the other commitments you both have.
Are you ready to make a change in your physical intimacy that would push the limits of what you've done sexually in your marriage?
Are you excited about this challenge, but don't know what to do.  You've come to the right place…
Make sure to listen to Episode 013 – The Difference One Week Can Make in Your Marriage to help you wrap you mind around having sex for 7 days straight.
What is the 7 Days of Sex Challenge?
At the most basic level it is you and your spouse having sex for 7 days straight from June 6th to June 12th, 2010.  But it really is so much more than just sex.
This is an opportunity for you and your spouse to really focus on each other and make intimacy a priority in your marriage.
This is a chance to take your communication to the next level as you plan each day's rendezvous and negotiate through life as well.
It's a time for you to get creative-let's face it, having sex in the same place, same position and at the same time of day for seven days straight will get a little boring.
Use this challenge as a way to break out of your routines and try something new, romantic, and different.
Ultimately the 7 Days of Sex Challenge is a way for you and your spouse to get Stripped Down before each other and ignite the intimacy in your marriage, for these 7 days and well into the future.
7 Days of Sex Challenge Book Kindle Edition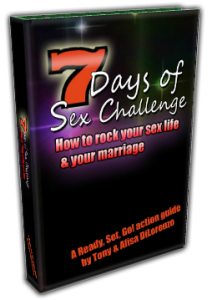 As C.S. Lewis once said, "Sex that is too serious is deprived of the romp and fun that is essential to a healthy enjoyment of sex."
After reading this book, you'll be armed with the knowledge on what you need to do to have your own 7 Days of Sex Challenge. Every year our marriages need to be growing and  it is important for you to accomplish something that will set it up for a lot of growth.
Grab 7 Days of Sex Challenge Book Kindle Edition today!
Why Now?
Since we launched the ONE Extraordinary Marriage podcast and started sharing our story, we have heard from a number of people that they don't know if they could ever do what we did (40 out of 60 days).  To be honest, we're not even sure we could attempt the 60 Days of Sex again (That's Alisa talking, I'm up for it)!  We found that 7 days is a lot easier to think about and to work into our schedule.   Some of you have shared that you were able to do 3-4 days in a row and then life got in the way.  As our community has grown we are constantly aware of the tremendous amount of support and encouragement you provide to one another. We feel that the time is right to launch an effort where everyone who attempts the 7 Days of Sex Challenge can do it with the support and encouragement from the ONE Community.
Why Should You Join Us?
1.  It will be an adventure!
2.  You will have sex for 7 days straight, something that most married couples have not done or at least not since their honeymoon.
3.  It builds the ONE Community and makes you an integral part of the it.
4.  You will have the support and encouragement from the ONE Community going through this amazing experience.  It's much easier to embark on an adventure with support and community than to do it by yourself.
5.  The communication in your marriage will be better. It is very difficult to have sex with someone for 7 days straight if the communication aspect is not there.
6.  Think of all of the calories you will burn with daily exercise.
7.  Your marriage will be stronger as a result of making intimacy a priority.
8.  Daily Prizes! – 8 Daily Prizes and one Grand Prize including our upcoming book Stripped Down & a $30 Visa Gift Card.
If you, your company, your website, or someone you know would like to support the 1st Annual 7 Days of Sex Challenge by providing a prize, we would be honored and thrilled to have you join us. We will be happy to promote (appropriate materials) during the challenge.  Please contact us if you are interested.
UPDATE #1: We have our first sponsorship from Dustin Riechmann with Engaged Marriage.  Thank Dustin for this generous offer by Tweeting him @EngagedMarriage.
UPDATE #2: Corey Allen with Simple Marriage had come on board and is a sponsor for the challenge.  Make sure to Tweet "You Rock for supporting the 7 Days of Sex Challenge" to @SimpleMarriage.
UPDATE #3: The host of Past Due Radio, Derek Sisterhen, has sponsored an ebook copy of his upcoming book Get Naked: Stripping Down to Money & Marriage.  Thank Derek for his support @DJSisterhen.
UPDATE #4: Jim & Carrie with the Intimate Couple have been married 27 years and have 9 kids.  These two know a bit about marriage and intimacy for sure.  They have come beside ONE and are offering their ebook The 7 Days Sex Challenge.
UPDATE #5: Please make sure to thank Brad Chaffee with Enemy of Debt for the great job he did with the 7 Days of Sex Challenge Banners.  Make sure to let him you appreciate what he has done for the challenge by Tweeting him @enemyofdebt.
We're In, What Do We Need to Do?
Leave a comment to this post before Saturday June 5th, 2010 at 12pm. Pacific Standard Time. This lets us know who is up for the challenge (no pun intended).  Please let us know how long you have been married and what state you reside in.
There will be a blog post each day during the challenge, please comment and let us know how you two are doing.  It doesn't have to be anything elaborate just a line or two about what's going on in your marriage as a result of the challenge.  You can share as much or as little as you like.  We would also love to have you leave listener feedback and/or send us a video clips with the two of you sharing about the challenge.
Tweet this message (copy & Paste):  We've joined the 1st Annual 7 Days of Sex Challenge.  Sign up with your spouse today! http://ht.ly/1HAFl (via @oneonfire) #7DaysOfSexChallenge.
That's it!  We are looking forward to walking along side of you guys during this challenge.  Our goal is that the ONE Community will be an there to encourage, share, laugh, and enjoy ourselves each day to ultimately be closer and more intimate with our spouse.   It is going to be an adventure for each of us.  Let's get it on!

Finally, please pass this on to your Facebook Friends, Twitter Folks, post the 7 Days of Adventure badge to your blog, as well as ask your friends and family to join the challenge.  The more couples who join in the more each of us get to witness the amazing things that God can do in each of our marriages.  In turn the ONE Community becomes a pillar where others who are seeking truth, knowledge, openness, and intimacy can find the support they so desire.
Love you guys,
View 7 Days of Sex Challenge States Represented in a larger map
Disclosure of Material Connection: Some of the links in the post above are "affiliate links." This means if you click on the link and purchase the item, we will receive an affiliate commission. Regardless, we only recommend products or services we use personally and believe will add value to our readers. We are disclosing this in accordance with the Federal Trade Commission's 16 CFR, Part 255: "Guides Concerning the Use of Endorsements and Testimonials in Advertising."