JUMP START YOUR SEX DRIVE WITH LIBIDO BOOSTING VITAMINS AND MINERALS
Having a low libido can be frustrating, but there are several libido boosting vitamins and minerals you can take to jumpstart your sex drive.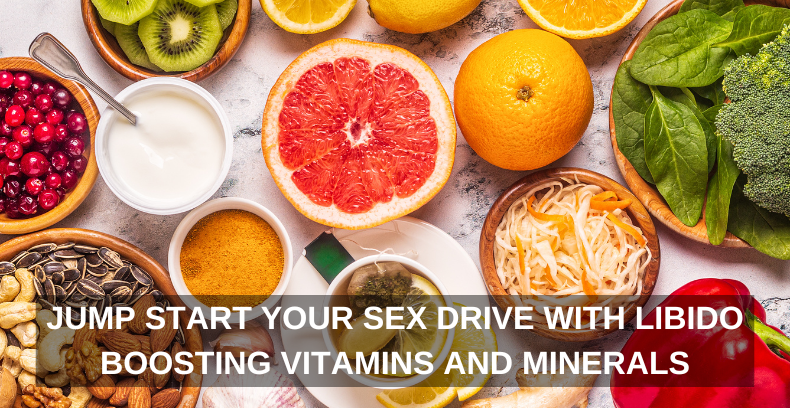 Is your sex drive not where you would like it to be? Do you feel tired and worn out even after a night of sleep? Is your body needing libido boosting vitamins and minerals? We know where you are!
You used to be raring to go whenever you or your spouse initiated sexual intimacy. As the years have passed, you've noticed your levels of sexual desire changing.
Whether because of stress, hormones, age, or other factors, your libido may have gone a bit idle.
A low libido can be frustrating. It will affect your marriage and your 6 Pillars of Intimacy®. Your ability to talk about this obstacle with your spouse and find solutions will determine the future health of your relationship. 
You can start by taking essential libido boosting vitamins and minerals.
Why Strengthen Your Sexual Intimacy?
A healthy body is important to your sexual intimacy.
As you go through life, your body and hormones will change. While you can't prevent aging, you can take steps to protect your sexual intimacy, which is the romance, initiation, foreplay, and sexual intercourse you have with your spouse.
The two of you can adjust your definition of sexual intimacy while you try to increase your libido. For example, you can embrace oral sex or emphasize romance. Sexual intimacy is more than just sexual intercourse.
Talking together about your libido is equally important. When you share your thoughts and feelings about the experience, it can help to deepen your emotional connection. Your emotional intimacy plays a key role in keeping your marriage strong.
You can also strengthen your sexual intimacy by seeking solutions.
One of the best ways to take action is by making sure you are taking the essential libido boosting vitamins and minerals that can aid you in jump starting your sex drive.
By taking the vitamins and minerals your body is lacking, you will once again have the urge to have sex. You can even up your libido a bit more with an intense metabolic fuel supplement.
Libido Boosting Vitamins and Minerals
If you're experiencing low libido, it's time to take the steps needed so that you can have the sexual and physical intimacy you desire.
Take a look at the libido boosting vitamins and minerals below. If you have major concerns about your libido, seek guidance from a medical professional.
Vitamin A
Vitamin A is essential for both male and female sex hormone production. For normal reproductive cycles in women adequate availability of Vitamin A are necessary. Men will benefit from Vitamin A as it is vital to sperm production and virility.
What you can eat to help you boost your Vitamin A:
Fresh or dried apricots
Cabbage
Cantaloupe
Carrot
Hot chili pepper
Collard greens
Grapefruit
Leafy lettuce
Romaine lettuce
Mango
Pepper
Spinach
Sweet potato
Tomato
Watermelon
Vitamin B3
Vitamin B3 is necessary for energy metabolism, especially anaerobic metabolism which is associated with short, intense bursts of energy. You have those during love making sessions. It also helps with enzyme reactions and for the maintenance of skin and nerve health. Vitamin B3 enhances the sexual flush. This sexual flush increases blood flow to your genitals and intensify your orgasm.
What you can eat to help you boost your Vitamin B3:
Anchovies
Brown rice
Chicken (light meat)
Liver
Paprika
Peanuts
Sun-dried tomatoes
Swordfish
Tuna
Turkey (no skin)
Veal (lean)
Whole wheat bread
Vitamin B6
Vitamin B6 is a libido enhancer because it helps in controlling elevated prolactin. It also aids in estrogen and testosterone function, as well as production of red blood cells, serotonin, and dopamine. For men with low sperm count Vitamin B6 has been show to help increase these levels.
Here's what you can eat to help you boost your Vitamin B6:
Avocados
Baked potatoes (no skin)
Bananas
Brussels sprouts (cooked)
Cantaloupe
Cottage cheese (low-fat)
Halibut
Pork chops
Roast beef
Tomatoes
Vitamin B12
Vitamin B12 is needed so that your body can manufacture red blood cells, support the normal function of your nerve cells and is an energy booster. When you optimal levels of vitamin B12 heightens your sex drive, which enhances penile erection by enlarging blood vessels. It also stimulates secretion of histamine needed for orgasm.
What you can eat to help you boost your Vitamin B12:
Beef
Caviar (fish eggs)
Clams
Cod
Crab
Eggs
Liver
Lobster
Mackerel
Mussels
Octopus
Oysters
Salmon
Sardines
Swiss cheese
Tuna
Vitamin C
Vitamin C is important for the synthesis of hormones that are involved in your sexuality, fertility, and aiding you to get turned on. These hormones are androgen, estrogen and progesterone. Vitamin C also strengthens your immune system, keeps your joints limber, and protects against day-to-day stress.
What you can eat to help you boost your Vitamin C:
Cantaloupe
Grapefruits
Kiwifruit
Lemons
Limes
Oranges
Strawberries
Sweet peppers
Vitamin E
Vitamin E is considered the "Sex Vitamin" and is sure to add spice to your sex life. This vitamin increases blood flow and oxygen to your genitalia. It also is a key player in the production of your sex hormones to give you that sex drive boost. It's also an anti-aging antioxidant, which helps with your youthfulness and vitality.
What you can eat to help you boost your Vitamin E:
Asparagus
Broccoli
Chestnuts
Chickpeas
Egg yolk
Omelettes
Smoked salmon
Spinach
Sweet potato
Tomatoes
Walnuts
Wholegrain breads.
Folic Acid
Folic acid is a key vitamin when it comes to reproduction. If you are looking to get pregnant both you and your spouse should make sure you are getting your daily allowance of folic acid. Folic acid helps prevent birth defects and is tied to an increased sperm count in men.
What you can eat to help you boost your Folic Acid:
Almonds
Asparagus
Avocado
Beets
Broccoli
Brussel sprouts
Cauliflower
Carrots
Celery
Collard greens
Corn
Mustard greens
Okra
Peanuts
Romaine lettuce
Spinach
Sunflower seeds
Turnip greens

Libido Boosting Vitamins and Minerals
Minerals are elements that help boost your sex drive, but originate in the earth. Your body does not make minerals so you will have to obtain the minerals below either through your diet and/or supplements. Knowing how these libido boosting vitamins and minerals work for you is important for your sexual health.
Magnesium
Magnesium helps in the production of sex hormones like androgen and estrogen that regulate the urge down there. This mineral has documented aphrodisiac effects, which can improve your libido and sexual performance. It also helps to calm and relax you so that you can have an increased sex drive.
What you can eat to help you boost your Magnesium:
Almonds
Basil
Brazil nuts
Cashews
Cocoa powder (dark chocolate)
Dill
Dried coriander
Dry roasted soybeans
Molasses
Oat bran
Rice
Sage
Seeds: flax, pumpkin, sesame, squash, sunflower, watermelon
Spearmint
Wheat
Selenium
Selenium is essential to sperm production. Nearly half, 50%, of the selenium in your or or your spouses body is in the testes and seminal ducts. Guys lose selenium in their semen when they ejaculate. The importance of Selenium is its role in the antioxidant activity of Vitamin E, the "Sex Vitamin". Having optimal levels of Selenium is essential for your virility.
What you can eat to help you boost your Selenium:
Barley
Brazil nuts
Brown rice
Eggs
Fish: flounder, halibut, salmon, sardines, tuna
Meat: beef, chicken, lamb, liver, pork, turkey
Mushrooms (button, cremini, shiitake)
Oats
Onions
Shellfish: clams, mussels, oysters, scallops, shrimp
Sunflower seeds
Wheat germ
Zinc
Zinc is required for the production of testosterone and production of sperm. Healthy testosterone levels in both men and women are important to a healthy sex drive. Zinc also aids in prostrate health. Your prostrate has a large amount of zinc, which helps regulate prostatic fluid. When there is a deficiency of zinc this hurts your prostate. Without a healthy prostate, you can't have a healthy sex life.
What you can eat to help you boost your Zinc:
Beef
Brown rice
Crab
Dark chocolate
Egg yolks
Garlic
Kidney beans
Lamb
Lobster
Oysters
Peanuts
Pork
Salmon
Seeds: flax, pumpkin, squash
Shrimp
Spinach
Turkey
Wheat germ
Hormone Therapy, Supplements, and More Libido Boosting Energy
Taking action to address low libido can be daunting. However, it's important to overcome your fears or hesitations for the sake of your health and marriage.
Hormone Therapy
If you are experiencing low libido or other changes in your sexual drive, consider getting your hormones tested. Tests may assess your testosterone or progesterone levels, B12, or other hormones.
You might discover that hormone therapy addresses many of your concerns and helps you revamp your sexual intimacy. Treatments can come in the form of injections, patches, capsules, creams, and more.  
Lifestyle Adjustments
Diet, exercise, and sleep can hugely affect your sex drive. Managing stress and evaluating your lifestyle can also help you naturally boost your libido.
Other Supplements
Other common supplements to boost libido include ginseng, ginkgo biloba, fenugreek, and Tribulus. PT-141 (also known as Bremelanotide) is another sexual arousal product for both men and women. This supplement works on the central nervous system to stimulate blood flow to the areas that need it the most for intercourse. 
Supplements like PT-141 can help solve the problem of mismatched libido, especially if other products like Viagra or Cialis have lost their effectiveness over time. PT-141 is available as an injectable or intranasal spray through Katalyst Wellness. For more information about dosing protocols, frequency of use, and questions, reach out to the Katalyst Wellness team.
There are other nutritional supplements you can incorporate too, such as Irwin Naturals Living Green Liquid-Gel Multi Vitamin for Women or Irwin Naturals Living Green Liquid-Gel Multi Vitamin for Men.
If your sex drive is not where you'd like it to be, you can take action to change things! Don't waste another day feeling worn out, and uninterested in sex with your spouse.
Begin your quest to have a healthy and vibrant sex drive with the help of libido boosting vitamins and minerals.
Watch the video below to rekindle the spark and restore the connection in your marriage today!
In the 6 Pillars of Intimacy®, you will discover secrets that have transformed countless marriages. Its ideas are simple, practical, and powerful. You'll be inspired to look at your marriage through a new lens and be encouraged by its commonsense approach.
Alisa and Tony DiLorenzo's proven approach to building intimacy in marriage will help you experience deeper and richer levels of intimacy with your spouse – starting today. Click HERE to get your copy today!

Disclosure of Material Connection: Some of the links in the post above are "affiliate links." This means if you click on the link and purchase the item, we will receive an affiliate commission. Regardless, we only recommend products or services we use personally and believe will add value to our readers. We are disclosing this in accordance with the Federal Trade Commission's 16 CFR, Part 255: "Guides Concerning the Use of Endorsements and Testimonials in Advertising."
Medical Disclaimer: The content of this article & website is provided for general informational purposes only and is not intended as, nor should it be considered a substitute for, professional medical advice. Do not use the information on this website for diagnosing or treating any medical or health condition. If you have or suspect you have a medical problem, promptly contact your professional healthcare provider.