DEAR COUPLES, REJECTION IS CRUSHING YOUR SPOUSE
This time would be different, and he just knew it. Every time before, he may have started with great intentions and unshakable goals.
He may have plucked up his courage, set his feet firm, and moved confidently towards his goal.
He may have swung as hard as he could, hoping at last, to hit it out of the park.
Despite all the failure, this time WOULD be different.
It just had to be.
Yet, it only took him a few steps forward to discover, that just like each attempt before, his next best try would hit nothing but empty air.
He is once again sent into a topsy turvy tale spin, looking at nothing but air, before his hopes and dreams are dashed to the ground with him.
No matter how great she was at convincing him otherwise, Lucy was never going to let Charlie Brown kick that football.
You see, on August 2nd, 1979, she promised not to pull the ball away, but instead of the ball, he kicked her hand.
His one mistake cost him her trust. He then suffered dashed expectations over 40 times in the life of Peanuts.
Once bitten, 40 times shy.
We laugh at the lovable characters in Peanuts.
You surely aren't laughing though if your marriage starts to feel like this.
Rejection can certainly come in a lot of different shapes and sizes, but it all feels just about the same.
Science actually proves that the bodies response to rejection is almost the same as its response to being physically hit.
Rejecting your spouse's advance is certainly not the same as striking them, but in their body, it can feel just the same.
There are few more damaging places in marriage to experience this type of rejection than in the bedroom.
You don't always mean to reject your spouse sexually. Sometimes the reasons are "good."
You're tired from a long day.

There's still a few to-dos to complete.

You've got one more chapter to finish.

The kids need your attention.

You have an important meeting to get to.
These reasons aren't bad in and of themselves, they just can't become the norm.
The other type of rejection is even more damaging though.
It is a bold, and distinct. "NO!"
No reason is offered and no explanation given.
If your marriage is clicking on all cylinders, you are the only person on earth your spouse can and wants to find sexual fulfillment with!
It is crucial to make sure that you are both in a place to receive your spouse's advances with passion and not returned to sender.
It will help your partner to increase self worth, keep doubt at bay and continuously lay a strong foundation in your marriage.
It isn't hard to see why creating a no rejection zone in your marriage is vital to creating an environment where both you and your spouse trust one another!
Here are 3 ways you can create a no rejection zone for your marriage.
Agree On It
As simple as that sounds, it has to be step one.
If you are trying to reclaim an intimacy lifestyle, it is imperative that you communicate about it first.
You may have even tried and failed before.
Use these 19 questions to help get the conversation started.
Sometimes talking about what you DO like is a whole lot simpler than keeping at bay all the things you DON'T.
Set up and agree on a  strong "YES" zone and you won't have to be focused so much on the "NO's" that have been said before.
But that brings us to our second point.
Clear The Air
What are the kicked fingers and mislead opportunities that are robbing trust in your relationship?
Get those skeletons out of the closet.
If it is too hard to figure it out between you, then bring a trusted advisor, pastor or marriage coach in to mediate.
Your intimacy is too important to let a lot of little past hurts gum it up.
We wrote The Trust Factor: How-to Rebuild Trust In Your Marriage as a resource to help you repair broken trust in just this way.
Be bold about living with short accounts against each other.
Lavish each other with forgiveness.
Don't be surprised when you have more opportunities to lavish each other in more creative ways!
Speaking of, here comes point 3.
Schedule Sex
Want a surefire way to not wonder if your pursuit is going to be met with massive rejection?
Put in on the calendar!
A written plan is always going to lead to more success than one in your head.
Write it down! Make it plain!
Then go ahead and spice it up.
To really go to the next level try the 7 Days of Sex Challenge.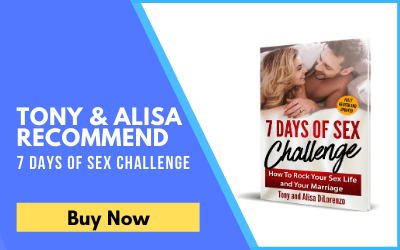 Click HERE to Buy 7 Days of Sex Challenge Now
With those tools as a starter kit, you'll wind up in a place where you won't have to use all your energy getting up the gumption to ask again.
You'll then have plenty of energy for other things.
No more miscues.
More contact and more made attempts.
It'll be good.
It'll be very good!
Disclosure of Material Connection: Some of the links in the post above are "affiliate links." This means if you click on the link and purchase the item, we will receive an affiliate commission. Regardless, we only recommend products or services we use personally and believe will add value to our readers. We are disclosing this in accordance with the Federal Trade Commission's 16 CFR, Part 255: "Guides Concerning the Use of Endorsements and Testimonials in Advertising."