"Sex is emotion in motion."  —Mae West
Your emotional intimacy plays a huge roll in the connection you and your spouse have before you even have sex.
As Mae West said it's your emotions in motion that makes sex so heightened and explosive (in a good way).
Unfortunately, at times the spark in your sexual intimacy may begin to dim. You do the same thing, in the same place, at the same time.
And this happens time after time.
Sex becomes boring!
Our hands are raised as we've been there at different times in our 20 years of marriage.
This is where Sex Stack came in for us and we hope for you as well.
The easiest way to describe Sex Stack is Jenga, but with a twist for your sexual intimacy.
The name of the game is to not have the stack topple on you when it's your turn.
But before you get there you have to pull a block out and perform the sexual activity on your spouse.
Here's where getting out of the RUT happens.
You and your spouse are going to be challenged to do some foreplay activities you have never even thought about.
When we first played the game we were uncomfortable at some of the activities and yet as we continued on the new moves and positions allowed us to experience our sexual intimacy in a whole new way.
Here are a few of the
132 activities
you'll be challenged with:
Confess to your partner the clothing they look hottest in! Now have them go put that on.

Have your partner hide this piece someplace in the room. NO PEEKING! Find the piece by playing "hot and cold" with orgasm sounds.

Starting from his partner's forehead the male kisses his way down to her breasts.

And many, many more.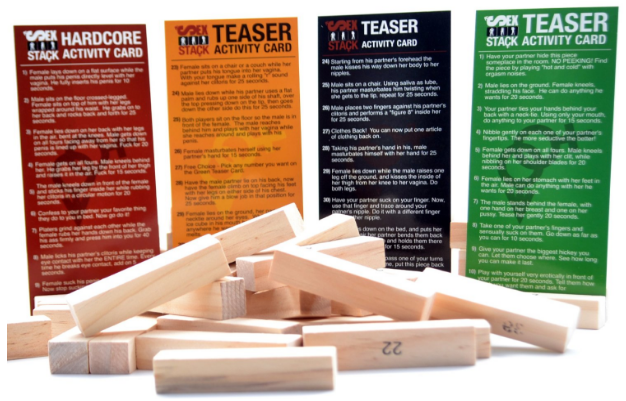 The sexual activities we do when we play Sex Stack have helped us break the routine in our sex life and we hope it will do the same for you.
When you both have fun in the bedroom, have variety in your sex life, and enjoy a deeper emotional connection you are now enhancing your sexual intimacy and that is something to look forward to.
It's a fun game to play together, but there are a couple of things you need to know that we learned while playing:
It may be tough to hold an erection at times. (From one activity to the next takes time and in that time you may become flaccid.)

If you draw an activity and it's an absolute no go for you, say so AND offer an alternative to your spouse. There is nothing so defeating as hearing NO in the bedroom without another suggestion when things were going so well.

The Hardcore Activity Cards use some vulgar language. If this bothers you throw them away as soon as you receive your

Sex Stack

.
At the end of the day playing Sex Stack or any fun board games to spice up your sex life is to have fun, laugh and most of all bond with your spouse.
Enjoy each other and create an opportunity that the two will remember for many years to come.