If you're like most of our readers, you're a lover, spouse, parent and friend. You are committed to your spouse and family, and—equally important—having a successful life.
You strive to grow, get better, and have the marriage you desire. You want to leave a lasting impact on those around you.
But sometimes things keep getting in the way: There just seems to be too much to do and too little time. Maybe you feel like this reader:
"My husband and I are currently living – navigating unmatched sex-drives and desires, increasing frustration, dissipating communication, and maybe the hardest of them all –  trouble finding our place as new parents, difficulty balancing our commitments to and love for our child, our demanding jobs, managing our household, enjoying our new norm but still yearning for the "old norm" where it was just the two of us with plenty of time to look at each other, talk to each other, connect with each other."
Does This Sound Like You?
Be honest:
If so, you're not alone. All of us have felt this way.
We Know How You Feel
We know what it feels like to not be connected emotionally, sexually and spiritually—to have stress and the daily grind of life zap you of all energy, while still trying to attend to the things that matter most—family, health, faith, and community.
For years, we struggled to get on the same page. Too often, our success in other areas came at the expense of our connection and intimacy.
As serial entrepreneurs we have faced the stark reality that there's always more to do than there is time. But we also realized the answer isn't simply to spend more time together. The answer is to spend intentional quality time together.
Our Goal in Writing This Blog
Through our blog and podcast, our mission is to creates marital transformation by equipping couples with the tools and strategies they need to overcome their intimacy challenges. With an emphasis on transparency and a message of hope.
If you're new to our site (and you likely wouldn't be on this page if you weren't), here are some of our most popular posts in each category.
Our Most Popular Posts
Sex
Romance
Communication
Health & Fitness
Save My Marriage
Our Archive
You can also check our blog's archive and our podcast archive for a list of every post we have written or use the search function in the upper right corner of this page to find other posts that might be of interest.
Our Products and Services
While the content on our blog and in our podcast is all free, we do offer a number of products and services. Be sure to check out our Store and Marriage Coaching sections.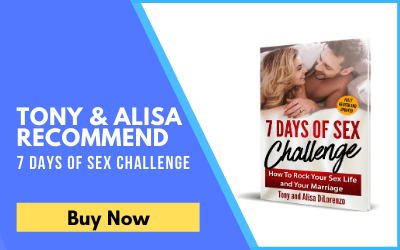 Click HERE to Buy 7 Days of Sex Challenge Now
A Word about Affiliates
Some of our articles contain affiliate links to products, apps, and services. If you click through and purchase, we will receive a small commission on the sale. Rest assured, we only recommend products or services that we personally use or believe will be helpful to the ONE Family.
Subscribe to Our Blog
In order to make sure you don't miss out on anything, why not subscribe to our newsletter. When you do we'll give your Our Six Questions to Instantly Break the Silence with Your Spouse. It's fast, easy, and you can unsubscribe at any time.
Yes, you can have a marriage you desire and succeed at life. All it takes is the intention and a mentor to guide you. If you'll provide the first, we'll provide the second. Let's get started.