TOP 12 CHRISTMAS GIFTS FOR YOUR HUSBAND
Christmas is an amazing time of year. When you find the perfect Christmas gifts for your husband it is an exciting time and yet it can be daunting.
Don't worry… we're here to help you out!
We've searched all around the web and found the Top 12 Christmas Gifts for Your Husband that we think your husband will appreciate.
If your husband is into accessories, knives, the outdoors, games or food… you'll find something here.
Check out more information on each gift or place your order online by clicking the link of the gift you know your husband will love!
Merry Christmas! We hope you find the perfect Christmas gifts!
Related reading:
A wallet should fit to your lifestyle rather than force you to fit into it. The Note Sleeve stores flat bills and coins, with easy-access slots for your daily cards and a storage area with a convenient pull-tab for less used cards.
Designed for slicing, dicing, and chopping a full range of fruits, vegetables, and more. With its slightly curved belly, the Chef's knife can be gently rocked through fresh herbs or spices to produce a very fine mince.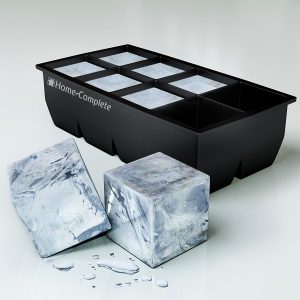 Sit back, relax and drink at your leisure enjoying the real taste of your drink right down to that last sip. These large ice cubes (2″ X 2″ X 2″) can keep your drink cold for hours.
These JINSHI boxer briefs are made of bamboo fibres which is superior to cotton. Smooth, lighter in weight, and easy to care for. Bamboo fabric has insulating properties, helping the wearer stay warmer in winter and cooler in summer.
The Plymouth Artisan Cheese Giftbox consists of 6 colorful blocks of cheese that are packed in a handmade wooden crate. Our raw cow's milk cheeses are crafted, cut, and waxed by hand – the same way they did it over 125 years ago on the Vermont homestead.
This hammock is built for your adventures from the backcountry to the backyard. Inspired by the kangaroo, this camping hammock will get you off the ground in a hurry, give you a comfortable, secure place to rest, and then pack up quick so you can continue on your way.
Now you can make the Kessel Run in less than 12 parsecs with the Flying Star Wars Ultimate Millennium Falcon. Fly the most iconic ship in the Star Wars universe right in your own home.
The claws are strategically spaced so that you can quickly and finely pull the perfect pork or chicken without meat getting caught between them.
The SOG Specialty Knives & Tools CC1SB Credit Card Companion is a credit card-sized multitool, complete with (9) essential tools that all fit conveniently into the compact case that can easily be taken on the go.
It's a hammer! It's a bottle opener! Opens bottles quietly or very loudly, you decide. This is a great gift for that beer lover and the handy-man in your life.
The AeroPress is a completely new kind of coffee press that brews absolutely delicious, rich coffee without bitterness. In one minute, the AeroPress will make 1 to 4 cups of american or espresso style coffee perfect to share with your loved one.
For true meat lovers, a beautifully prepared cut of beef, pork, lamb, veal, or poultry is not just the center of the meal, it is the reason for eating. No one understands meat's seductive hold on our palates better than America's premier butcher, Pat LaFrieda.
We hope this hit list gives you a great start to your holiday gift giving so you can stress less and enjoy the time with your partner even more.
If you know anyone else in a marriage or relationship that could use these great gift giving guides, please forward this on to them!
Disclosure of Material Connection: Some of the links in the post above are "affiliate links." This means if you click on the link and purchase the item, we will receive an affiliate commission. Regardless, we only recommend products or services we use personally and believe will add value to our readers. We are disclosing this in accordance with the Federal Trade Commission's 16 CFR, Part 255: "Guides Concerning the Use of Endorsements and Testimonials in Advertising."