It was the fall of 2008 and our marriage was at a crossroads. We'd been married for 11 years, had a 2 and a 5 year old and felt more like roommates than lovers.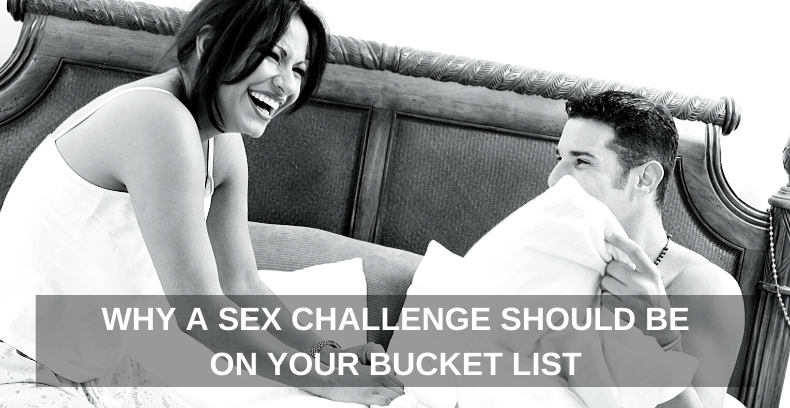 IF (and that's a big if) we had sex it felt more like a quick transaction than anything romantic. When we did have sex, each encounter looked just like the one before, there was no variety, no creativity, no passion, no excitement.
We were not in a good place and if we didn't do something soon then divorce was definitely in our future. Not a place that we saw ourselves when we said "I do" to one anther on our wedding day.
As we were getting ready for bed one night, Tony suggested…
"What if we had sex for 60 days in a row?"
We were getting ready to lead a small group study around the topic of sex for the next 8 weeks at our church which so happened to be just about 60 days.
I immediately said "NO!"
And yet the seed had been planted.
What if we had sex for 60 days? 

What would our marriage look like at the end of that time? 

Could it be any worse than if we didn't try?
Tony came home from work the next day and as he walked in the door, I said, "I'll do it. I'm in for the challenge." Over those 60 days we completed 40! The transformation in our marriage actually launched what is now ONE Extraordinary Marriage.
Since then we've completed 12 challenges ranging from 7 to 30 days. The priority we placed on us, our marriage and our intimacy is ultimately what has brought us to where we are today. We'd love it if you would join us during the 30 Day Sex Challenge. 
Join the 30 Day Sex Challenge Now
Yes, it's sex for 30 days and yet there is so much more in store for you and your marriage. So add this to your bucket list of things to do with your spouse!
I thought I was just agreeing to have sex with my husband for all those days, I had NO IDEA how much the emotional connection was going to change and grow. 
As one spouse shared with us about the challenge…
"The best stuff was all of the new experiences that we have never had before. We have been together for so long that we haven't had many new experiences and this challenge gave us lots of them! Glad we added it to our bucket list."
These 30 days are going to completely transform your marriage.  
Join the 30 Day Sex Challenge now.
We're excited for what is going to happen for you and your marriage!