3 REASONS YOU SHOULD TALK INSTEAD OF TEXT
Everyone has some sort of connection with their smartphone.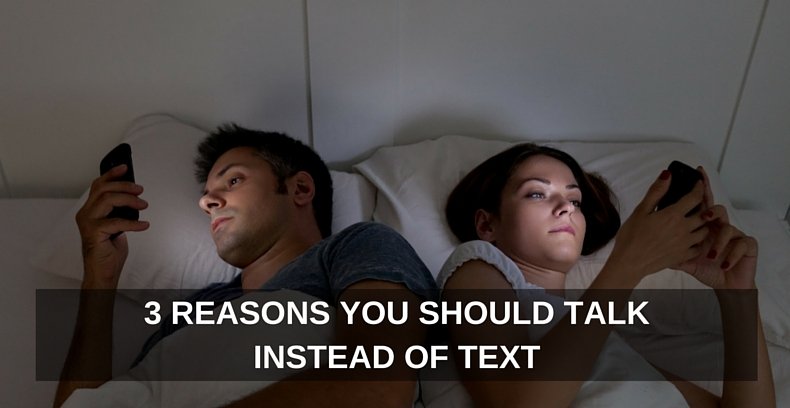 They give you the opportunity to connect on a whole new level with greater speed.
Smartphones prevent those return trips to the store, keep the kids a thumb press away, and make the little tasks so much easier.
However, we also know, that in times of trouble, we have to be careful to talk to our spouse more than we talk to SIRI.
Especially when feelings get big, it can feel safer to text than it can to sit and talk it through.
The truth is, texting about important issues in your marriage can be one of the most dangerous things you can do!
Even if you use the perfect Emoji, it's hard to convey the perfect emotion.
When times like these come about it's best to pause from texting, and set up a time to talk.
After all, you said till death due you part, not until the battery life runs out.
This might seem so simple, but it sure isn't easy.
Your life has become dependent on a 6 inch screen in front of your face, and you need to be so careful that your marriage doesn't become that small too.
To be able to sit from afar can be so tempting when tempers are flaring, or when you are flat out disappointed in your partner.
Yet, it's from that same distance that you miss the crucial clues and cues that could be used to bring you back together!
Texting about the issue doesn't allow you to observe the inflection, timing and tone or body language of our spouse.
For instance, image that in a time of crucial communication, you receive the simple text, "What did you mean by that?" This is a simple enough statement.
However, without hearing the care, kindness and true curiosity your spouse may be delivering this simple question with, it may not have the desired effect of brining you closer together.
In fact, it could drive you into a place where you're imagining your spouse being insensitive, rude, and uncaring!
You text back, "You KNOW what I meant by that!" (As if writing in All Caps means more!) and off come the gloves.
Sometimes it takes a heck of a lot of work, to get back to even. There's a world of difference in the delivery of the same sentence electronically versus personally!
All the misunderstanding could have been avoided with an intentional, caring, and in-person conversation. If your marriage is your number one priority, shouldn't it get more face time than your FaceTime?
So how can you prevent yourselves from falling into this trap?
The first step is to simply put away the phones and schedule the time. This can be scary! You may already feel that you've exhausted all the tools you and your spouse have to communicate around an already sticky issue.
That may be the reason you are texting in the first place. Instead of keeping a safe space for each other, you are keeping a safe distance.
It may be that you simply need some new tools to make the job of communicating easier.
Better communication is a lifelong class! Don't stop now. Don't be afraid to find some new tools.
Secondly, go outside of your marriage to learn a few new communication tools to use. Ask another couple you admire what tried and true methods they use, read a book, talk to a Pastor or try He Zigs. She Zags: Get Your Communication on the Same Path.
Give yourself some options so the previously sticky subjects now become building blocks, or in the short term, at least tolerable topics.
Thirdly, know that what will really bring breakthrough is dropping the masks and getting vulnerable about where you are both at. You need to hit the issues head on in love.
Keep trying things until you find something that works. You are worth it!
Don't think you have to stay home and "slug it out" either. Walk and talk outside. Go to a place you both love. Set a different atmosphere. Even set a time limit. Find what works for you.
Lastly, don't be afraid to get through what you can get through and schedule another time to tie up any loose ends. That's OK! Rome wasn't built in a day, but it's still standing today. Good communication in your marriage can be the same.
So, if the Android or the iPhone has taken the place of the intimate conversation, welcome to the 21st century.
No condemnation here.
But, use this as your excuse to turn off the screens, put away the tablets, stop talking like robots and make sure your spouse is the Apple of your eye again. 😉
You'll be so happy you did. You might just find, the less you text, the more you'll want to sext. That's the kind of communication we know will help you build the marriage you desire.
Disclosure of Material Connection: Some of the links in the post above are "affiliate links." This means if you click on the link and purchase the item, we will receive an affiliate commission. Regardless, we only recommend products or services we use personally and believe will add value to our readers. We are disclosing this in accordance with the Federal Trade Commission's 16 CFR, Part 255: "Guides Concerning the Use of Endorsements and Testimonials in Advertising."