6 FORMS OF INTIMACY TO BUILD A STRONG MARRIAGE
What is intimacy? Easy…it's sex, right? Yes… and no.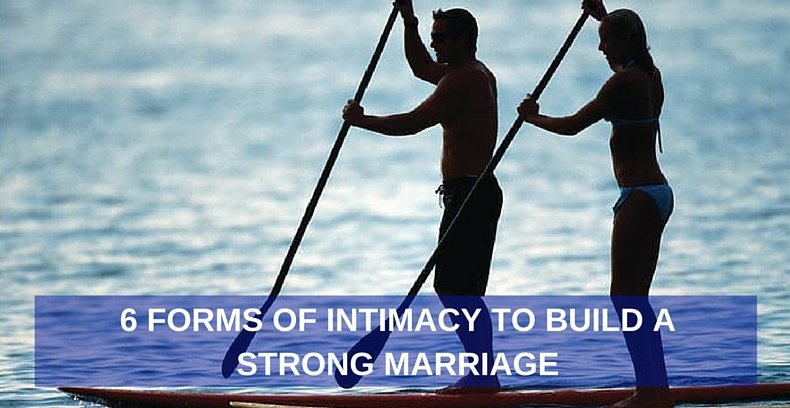 Today we're going to help you with both.
Intimacy can be categorized in two ways:
What happens between the sheets (what we often think of when the word intimacy comes to mind IE. sex) and… what happens outside the sheets.
First, let's talk about intimacy outside the bedroom.
Intimacy in its rawest form is closeness with another person.
By default, sex is often the first thing that we think of when we hear the word intimacy. What most couples don't realize (even the really smart ones!) is that there are many forms of intimacy. And they all impact the strength, commitment, and fulfillment of our relationship. Here are a few other crucial ones often overlooked:
6 Forms of Intimacy Found Inside and Outside Your Bedroom
1. Emotional Intimacy involves a closeness created through sharing our feelings, thoughts and desires. You have to be honest, first with yourself, regarding your feelings before you can share them with your spouse. Perhaps you want to set goals for the next year, you want to make a budget, you want to raise your children with certain values, all of these involve discussion without fear of repercussion. It means that you have made your marriage a safe place for discussion.
To improve your emotional intimacy try: Spending 10 minutes per day without any electronics distracting the two of you. 10 minutes may not seem like a lot, but in our hyper connected world – this can be obtainable by even the busiest of couples.
2. Sexual Intimacy involves everything that encompasses your sexual connection with your spouse. This can be from romance, initiating, foreplay and sexual intercourse. There's no two ways about it: Sex is h-e-a-l-t-h-y. There have been studies indicating that married couples live longer than their bachelor friends. It could be due to the strong mutual support that marriage brings or the frequency of sex known to be a tonic for stress.
To improve your sexual intimacy try: A new position or one you haven't done in awhile.
3. Spiritual Intimacy is shared religious beliefs and observed religious practices. This can be as simple as praying together, (although that's not always easy) going to church together, or discussing spiritual issues as a couple. Ultimately your life experiences, within the foundation of your shared faith, will create and deepen your spiritual intimacy.
To improve your spiritual intimacy try: Praying together at least once a week.
Click HERE to Get Your Copy Today
4. Recreational Intimacy is being active together. Find those things that you like to do and do them with your spouse. Take a walk together, make dinner, go to a museum, hike a mountain…do something with your spouse that allows you to actively spend time together.
To improve your recreational intimacy try: Go for a 30 minute walk around the block. Alisa and I call this time together our "walk and talk."
5. Financial Intimacy is the sharing of your financial situation. Financial intimacy comes with developing a plan for your finances and being able to have open and honest communication with your spouse regarding money matters.
To improve your financial intimacy try: Start eliminating debt using Dave Ramsey's incredibly awesome (and simple) Debt Snowball approach.
6. Physical Intimacy is loving touch. Be it holding hands, a hug, a kiss or even cuddling we humans were designed to want to be touched. Touch can communicate acceptance and love, a closeness that only the two of you have based on your shared experiences.
To improve your physical intimacy try: Hold hands every chance you have – make a game out of it.
These six intimacies are vital to a successful marriage.
If you're struggling with intimacy inside or outside the bedroom, we want you to know you're not alone.
Do You Need Personal Help To Improve Your Marriage? See if Marriage Coaching is right for you... Click HERE now to learn how you can get started today!
Disclosure of Material Connection: Some of the links in the post above are "affiliate links." This means if you click on the link and purchase the item, we will receive an affiliate commission. Regardless, we only recommend products or services we use personally and believe will add value to our readers. We are disclosing this in accordance with the Federal Trade Commission's 16 CFR, Part 255: "Guides Concerning the Use of Endorsements and Testimonials in Advertising."