"Spend more time with people who make you forget to look at your phone." —Jay Shetty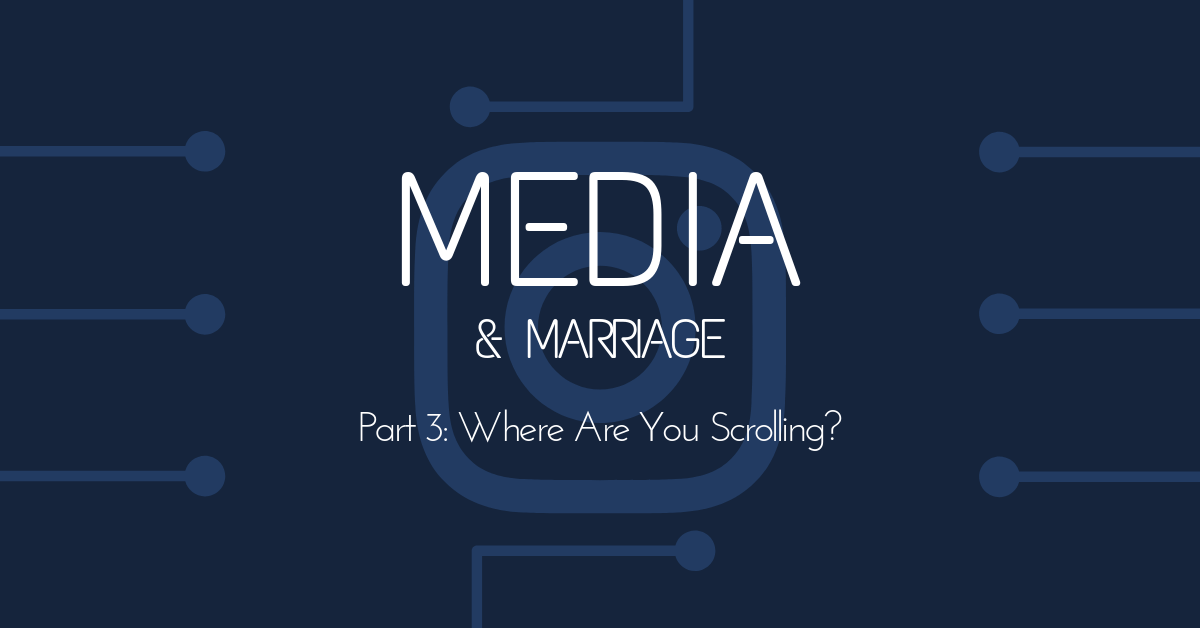 Media is an array of platforms for messages to be distributed –  both good and bad (and sometimes odd). We need to be intentional about how we let media influence us and our marriages.
There are dozens of forms of media available to us around the clock – but none penetrate adult life more than social media. And unlike video games or produced media where we implicitly understand "this is not real life", with social media, that perception is reversed.
Gamers: 21% of American adults. A gamer averages 57 minutes per day playing video games.
Netflix subscribers: 38% of American households. The average Netflix watcher is watching for 86 minutes per day.
Social Media users: 79% of American adults. On average social media users are scrolling for 91 minutes per day.
You see photos, comments, posts, likes — and none of it is fabricated. Or is it?
Yes, we all have heard the rhetoric about how damaging social media can be, and we affirm it all. Please, unsubscribe from the people and organizations that promote values and messages that are negative. However, we also want to caution to the damage that is being done to marriages while consuming all the "good" social media scrolling.
Your sister's kids' graduation announcements. Your college friend's new house. The motivational speaker that motivates you to hit the gym and skip the ice cream.
Even as you can be liking their posts and feeling goodwill towards valiant efforts, an underlying message will begin to line the back of your mind: Why isn't my life like this? Why doesn't my husband take me on dates like that? When will my kids act like that? Don't we deserve to look like that? That comparison wheel is overwhelmingly destructive.
We think we're immune to the effect of the scrolling done on social media and yet the reality is most of us use it as an adult pacifier. It's used when we are bored, to relax, as an avoidance tactic for things that take more effort. But we want to challenge you to make the effort.
Spend time with people who make you want to spend less time looking at your phone. Skip posting the selfie. Skip the mindless scroll. Call a friend or spend an afternoon together and just live your life instead of watching other people's. Make your marriage the one you want it to be, by becoming the spouse you were designed to be.
489: Media And Marriage: Part 1 — What Are You Listening To?
491: Media And Marriage: Part 2 — What Are You Watching?
493: Media And Marriage: Part 3 — Where Are You Scrolling?
EPISODE SPONSOR | 

Ava
Have you ever wished you could understand your cycle phases in real time? Ava provides fascinating insight about your cycle and health including data on sleep quality and quantity, physiological stress, resting pulse rate, and more! 
Your cycle, your fertility and your pregnancy can all be tracked with one device.
Ladies, it's finally time to understand your body. Visit Ava to learn more today.
Other Resources:
Strategic Coaching Session with Alisa
Support ONE Extraordinary Marriage by shopping at Amazon.com.
Leave a review on iTunes | Submit a question | Call (858)876-5663