"Challenges (or a sex challenge) are what make life interesting. Overcoming them is what makes life meaningful." —Joshua J. Marine
There are a lot of questions around the idea of couples doing a sex challenge and this show is an opportunity for you to get your questions answered.
Maybe this is something you are considering doing right now or maybe you're just curious as to what this could look like for the two of you…
What is a 30 Day Sex Challenge** and why would I want to suggest one?
Up until 11 years ago, we had never heard of such a thing either. So if you haven't heard of one, know you are not alone. The challenge is a commitment that the two of you make to have sex for a certain number of days. Couples do a challenge like this for many reasons. These reasons can include wanting to challenge themselves with something new and different, making sex a priority when it hasn't been and even refocusing their marriage on the two of them.  
**You can determine the number of days that you do your own challenge. Many couples start with a 7 Day or a 14 day challenge to see what they are capable of.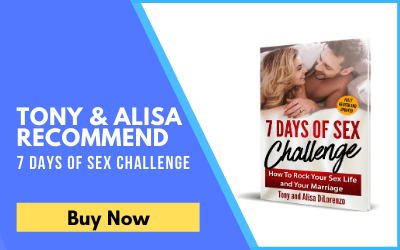 Click HERE to Buy Your Copy Today
How do I bring up the challenge to my spouse? 
Depending on where you are at currently, you may want to simply tell your spouse about that idea and ask what they think this could this look like for you as a couple. For others, you may want to ask them to listen to this show. It's important to share why you want to do the challenge, what is the benefit for your spouse? Remember individuals are much more likely to want to do something that is a benefit to them. Focusing on what you are getting or what's not working in your marriage may make your spouse less likely to want to participate. 
Does it have to be actual sex? 
That is up to the two of you. Like with all the resources at ONE you have the ability to customize this to suit your marriage.
How will the two of you define your sexual intimacy for the challenge. Is it any sexual activity? Is it only intercourse? Does oral sex count? You've get to sort out the details.
What if my marriage isn't in a great place and we don't have any type of connection or sex hasn't been a priority?
This is your chance to refocus. Just like anything else, when you plan for success, the outcome is going to be better. Many spouses who consider themselves to "low desire" or who would define themselves as "more reluctant" to try a challenge find that knowing that sex is always on the table brings more structure and understanding. This can lead to more romance and increases the mood. Plus, the planning process will help you reconnect. Communicating more in the bedroom will affect communication in ALL areas to new levels. Focusing on the two of you can be just the shift your marriage needs. 
How do you keep it fun? 
It's all about being creative. There is no rule that says that a couple can only have sex at night, in the dark, after everything is done.
You can try: 
different positions

choose different lubricants
different locations
plan for a different time of day
There is no limit!
Coming up with new ways to experience intimacy is fun. 
What if one of us isn't feeling "in the mood"?  
This is a conversation that the two of you need to have prior to starting the challenge. How will you handle those days? The reason that you need to discuss is because this is a challenge. You won't necessarily be in the mood. You won't necessarily feel like having sex every day however what is your commitment to one another?
Are you willing to shift your mindset from sex being a weapon/excuse to sex being a tool to connect the two of you? It's amazing what can happen when you give yourself permission to be physically and emotionally connected to your spouse.
I'm not sure if I'm capable of being that creative or excited about sex.
There's an old saying, "You don't know until you try." This is especially true when it comes to a sex challenge. As we mentioned in the first question, maybe you don't start with 30 days, maybe you start with 7. 
One of the reasons that we continue to do the sex challenges within the ONE family is because we know it's difficult to think of all the different positions or to know what lubricants are out there or how to adjust your schedules. The ONE family is so creative and so supportive. Doing a challenge like this with a community of supporters makes all the difference. 
What are you waiting for? What could shift in your marriage in the next 7, 14 or 30 days?
EPISODE SPONSOR | MyFreezEasy
MyFreezEasy wants to help you get wholesome meals stocked in your freezer in a simple, affordable way! MyFreezEasy is more than just freezer meal plans. 
It's the flexibility of having a back-up dinner and adding more variety to your meals, the confidence you'll have as you get dinner on the table without the stress, and the savings you'll see in your wallet
MyFreezEasy is the easiest way to do dinner, even for the busiest families.
Get 20% OFF Your Annual Membership Today!
Strategic Coaching Session with Alisa
Support ONE Extraordinary Marriage by shopping at Amazon.com.
Leave a review on iTunes | Submit a question | Call (858)876-5663