"More marriages might survive if partners realized that sometimes the for better comes after the for worse." —Doug Larson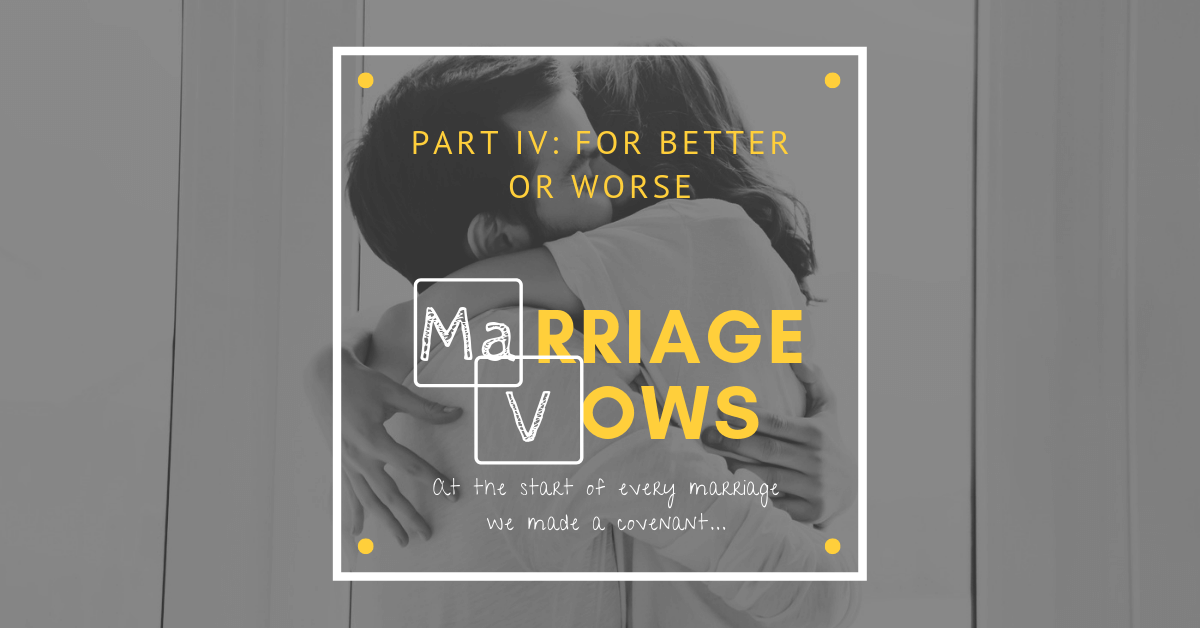 In the series "Our Marriage Vows" we are stripping away all of the circumstantial topics that get put onto marriages, and diving deep into the core of what marriage is. Maybe you're like Alisa who, on her wedding day, said her vows as a formality — because she was excited to get to the good stuff — the party. What she has realized and wishes she knew then was the vows WERE the "good stuff".
In Part 4 "For Better or Worse" we talk about removing the condition of happiness to honoring our vows.
Sometime after the memories of the honeymoon have faded from the recent memory, lies can sneak into our minds that say, "marriage isn't supposed to be this hard" or "as long as I feel loved".  Then we exchange the words of "for better or worse" with "as long as I'm happy and it's not too hard for me to do this relationship with you."
Life is hard. There's death of loved ones, heartache about kids, and tension amidst financial struggles. We've been emotional, angry, rude, inconsiderate and selfish. We can be stubborn. Where did we get the expectation that marriage was supposed to make you happy every day?
According to a recent poll we did, 97% of you acknowledge that you are responsible for your own happiness, not your spouse. Yet when people are pursuing divorce the top reason they choose this options is that their spouse isn't [fill in the blank]. Let's bring light to the hypocrisy here.
It's not a sign of weakness to get help. It's how you get strong. Plant yourselves in quality community who can both encourage you and admonish you. Pray, both for your spouse and yourself. Forgive quickly.
Don't let the "for worse" overtake you. Be stronger than your circumstances. Honor the words in your vows and keep fighting. Let us know how we can help you. We're here for you.
479: Our Marriage Vows Part 1 — I Take You
481: Our Marriage Vows Part 2 — To Have And To Hold
483: Our Marriage Vows Part 3 — For Richer, For Poorer
485: Our Marriage Vows Part 4 — For Better or Worse
487: Our Marriage Vows Part 5 — As Long As Life Shall Last
EPISODE SPONSOR | 

Ava
Have you ever wished you could understand your cycle phases in real time? Ava provides fascinating insight about your cycle and health including data on sleep quality and quantity, physiological stress, resting pulse rate, and more! 
Your cycle, your fertility and your pregnancy can all be tracked with one device.
Ladies, it's finally time to understand your body. Visit Ava to learn more today.
Other Resources:
Strategic Coaching Session with Alisa
Support ONE Extraordinary Marriage by shopping at Amazon.com.
Leave a review on iTunes | Submit a question | Call (858)876-5663